A pregnancy photo shoot is something that is going to stay with you for a lifetime. It is your emotion that will be stored in form of pictures.
These days people prefer more raw and natural photoshoots rather than planned poses.
Well, what is better than capturing your real emotions than scripted ones?
But my point of view is that you spent a lot of your money, time and energy to get photoshoots done.
So I guess it should be a mix of candid as well as planned poses.
The problem that arises here with a planned photoshoot of pregnant women is that pictures don't look natural.
To solve this problem in a pregnant lady photoshoot you should make a connection with the photographer.
It is also the responsibility of the photographer in photo shoot in pregnancy to maintain a connection with clients. This will bring light to the photo shoot by capturing real emotions.
Baby shower photoshoot ideas are really emotional for mom-to-be. So it is very important to capture real emotion and happiness.
Photoshoots of pregnant women can be really overwhelming. As a photographer, it is your responsibility to master your skill of capturing emotions.
Try to make the pregnant lady comfortable rather than commanding poses. Just show them references or your previous photoshoot.
Communicate with her about the idea of making the picture perfect. Then give her time to mold the poses according to her own comfort zone.
Most of the new moms-to-be are really conscious about their body. Try to build confidence in them by giving praise words like beautiful, stunning or lovely, etc.
This will help them be more confident and try new poses.
I am sure you must be thinking about unique pregnancy shoots.  You need not worry because here we have a list of pose ideas that are perfect for photoshoot of pregnant women.
So without any further delay let's just dive into:
Stunning Maternity Photo Ideas for Your Pregnancy Photo Shoot
Here is a list of a few poses that you can try during a photo shoot in pregnant.
You need not copy the exact poses you can obviously tweak them according to your own comfort and wants. But these are the rough ideas for pregnancy shoot..

Most common pose for pregnant lady photoshoots. You can prefer wearing gowns, and shirts. If you want to show your belly opt for crop tops. The background can be greenery or poolside with flowers around.
Couple Babyshower Photograph
Having your pattern in baby shower photoshoots adds light to the photograph. You can match your outfits, and use different props. Get your picture clicked in candid mode while the cake is being cut. 
Pregnancy Photoshoots with Pets
 Getting your pet into the frame makes the picture more exciting. The pictures become more real and candid. You can try pet poses as couples and as individual pregnant women lady. Try to contrast outfits with the color of your pet.
Floral Babyshower Photoshoots
Having a floral theme photoshoot with a white or pink color combination looks dreamy and eye catchy. Source out outfits in a pink or white gown. You can add candles to the frame and add vintage objects too. These all elements will add aesthetic to the picture.
The Whole Family in One Frame
  For Pregnant lady photoshoot if she have a elder child get them in the frame and use props like elder brother or sister. Having your child in the frame brings light to the whole photograph.
Shadow Pregnancy Photoshoot
Shadow photoshoot look ossum for babyshower photography pregnant photoshoot. Get it during the early morning or dawn time near beaches.
Silhouette Pregnancy Photoshoot
Silhouette photographs are really unique. If you are someone who is not comfortable with showing off the body. But If you want an aesthetic photo shoot, go for this one.
Modest Photoshoot
In Photoshoot of pregnant women if they want a modest photoshoot. Go for full-length bodycon dresses.
Underwater Pregnancy Photoshoot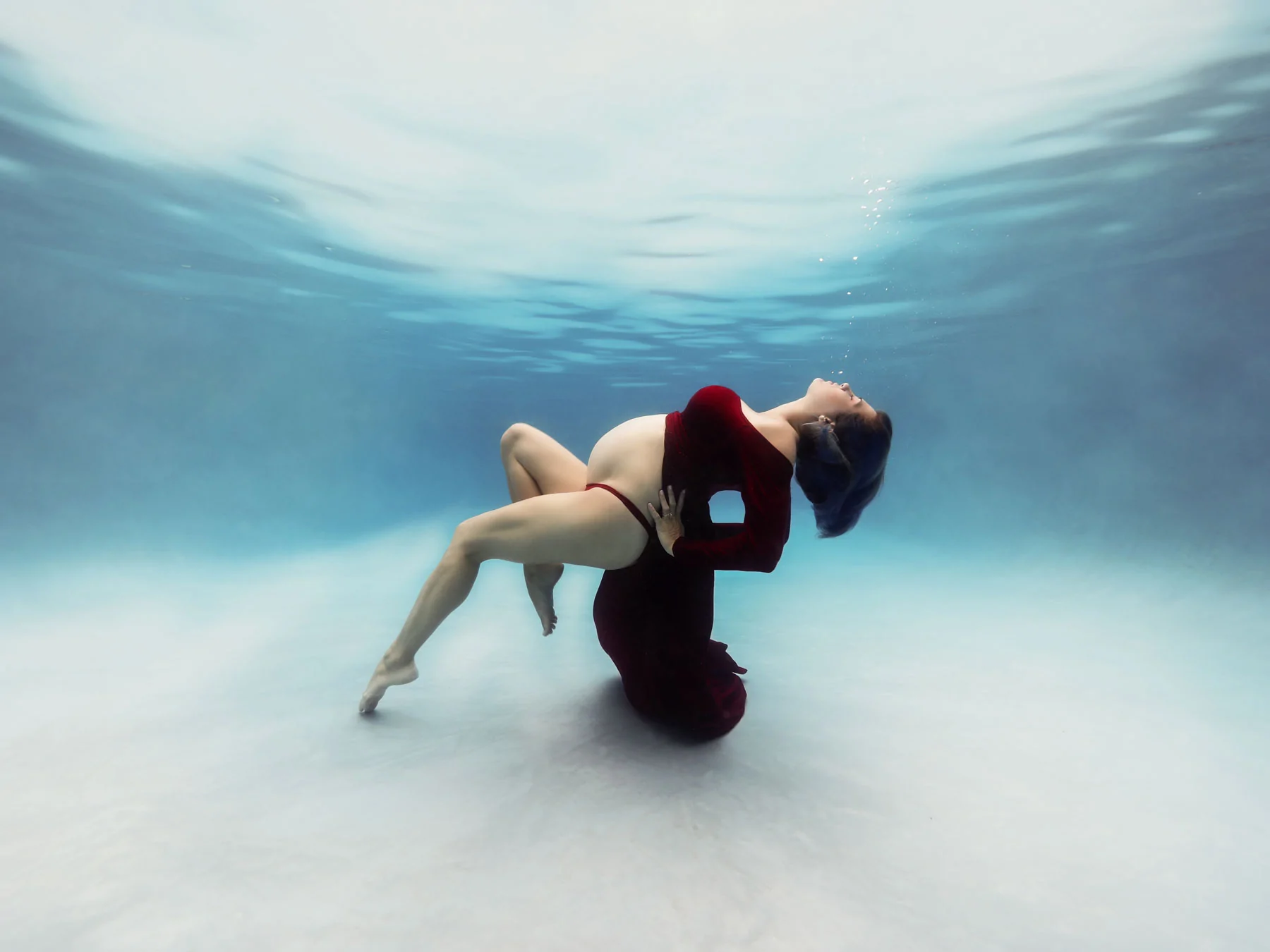 The underwater photoshoot is a great ideas for maternity photoshoot. If you are comfortable go for it. Take your partner in the frame.
Fairytale Forest Photoshoot
What better than getting your photo shoot in the forest with a perfect pink gown? The greenery around makes it look dreamy. 
Conclusion
A photo shoot in pregnancy is a memory of a lifetime. Don't take too much stress. Do whatever makes you comfortable.
Always try to keep it raw and natural. Take help from friends and family. Also last make a connection with your photographer. 
Related Post :