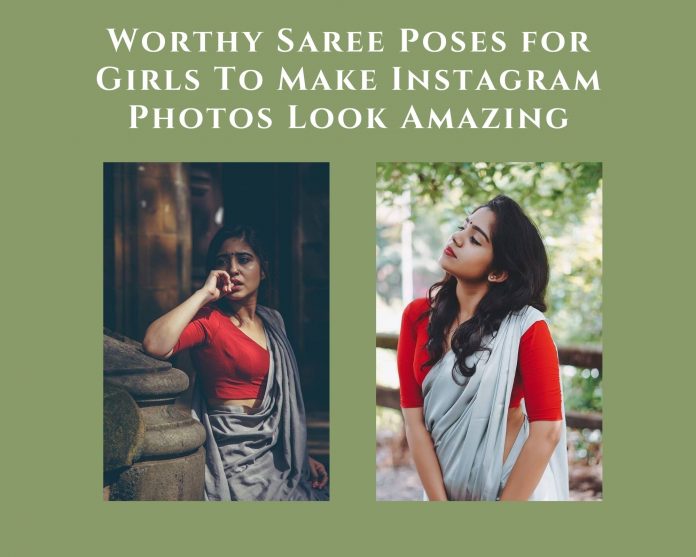 Sarees are the most adoring and most amazing attire for every lady yet they love to flaunt their curves in this stunning attire in different poses.
In this digital era everyone loves to post pictures on instagram and facebook especially in ethnic attires.
There are a number of saree poses for instagram which will make your insta feed look amazing. 
Amazing Saree Poses for Instagram  
These poses for saree pics are just amazing and will make your social media account look great. 
The Pretty Smile Pose 
A bright smile and a bright colored saree makes a soothing combination that will make your photo just a bomb. The fake candid + bright smile is the best pose for you.
Looking Down Pose
This one is nowadays the favourite pose of girls, especially young girls. So lights, camera and action with this pretty and elegant saree pose that helps you look diva and make your insta ID glow. 
Looking At The Other Side 
Another popular pose is this look around pose. You can give a damn pose by not looking in the camera yet looking great. So try this one by flaunting your saree and looking exemplary. 
The Thinking Pose 
Are you really thinking of something? With this curious thinking pose you will flash your social media account.
Sitting on stairs and giving this pose in the backyard will make the picture look more amazing. 
The Elegant Side Pose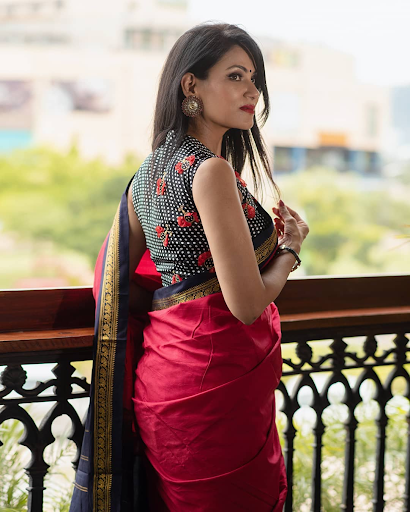 Standing in the balcony and giving instagram saree poses at home is also a great idea. This quintessential side pose is really a great one that can help you look like a stylish diva with a shimmer of elegance. 
Sitting on Sofa Pose
Sitting on the sofa or standing beside a sofa support also makes a fantastic pose. It's the best Diwali pose or when you are dressed for some auspicious function with lighting and diyas around. This glamorous pose is just awesome. 
Sunkissed Pose 
One of the most popular saree poses for instagram is the sunkissed pose. Sitting in the sunlight gives you a bright and clear picture which needs no editing. Even your saree looks great in sunlight. 
The Terrace Pose 
You can also call this one a sun kissed pose as you are standing under the sun on a terrace and taking a beautiful picture in the saree. Some oxidised jewellery will make the look more exemplary. 
The Downwards Pose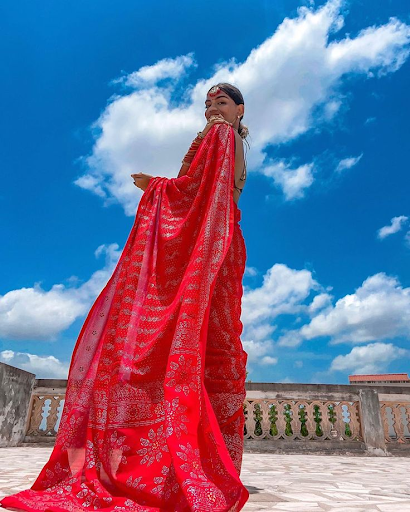 There are different saree poses for girls from which this downwards angle pose is exotic. The natural clouds and bright sunny day makes your picture look even more mesmerising. All you need is a smile to complete the picture. 
Flaunting the Earring
If you want a closeup pose but don't know how to act then this one will make your picture look beautiful. All you need is to touch your earrings, look at either side and you are done. It is the best pose for girls in saree.
The Sitting Pose 
If you are out at the party and love to click pictures in nature then this sitting pose will be something great for you. From all the poses for girls in saree this is a really cute and elegant one.  
Goggle it Up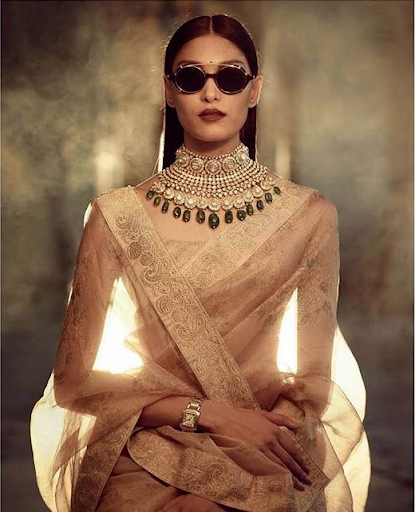 The trendiest photoshoot poses for girl in saree is the one with goggles. They are the bridal and bridesmaid's favourite pose. Do try them when you are attending a wedding. 
Posing with a Book
The saree poses for girls are not easy, but if you instantly want to click a picture then you can try something like this. Posing while reading a book with messy hair and neutral makeup is something really pretty. 
Side Pose in Saree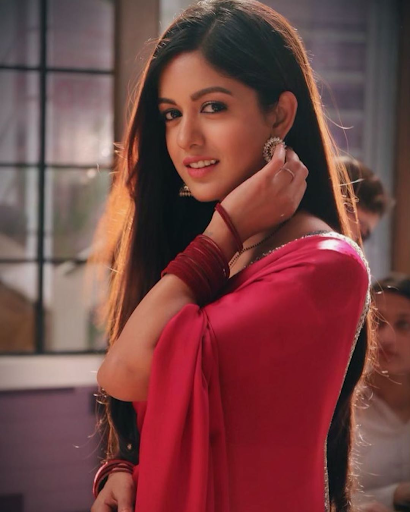 Open hair and give a side look to the camera makes a brilliant pose. You can try this pose anytime and anywhere whenever you are wearing a pretty saree. 
Printed Saree with Goggles 
Wearing a floral printed saree and combining it with goggles will make you instagram feed hot. This female saree poses for photography will look really admiring.  
Leaning at the Corridor 
One of the cutest poses is leaning on the corridor wall and giving a glamorous pose in saree. It is one of the easiest and most pretty photoshoot poses for girls in saree. 
The Photoshoot Pose 
If you are very eager to have a perfect saree picture then you can also opt for a diva photoshoot that will make your instagram shine brighter. 
Far Away Pose
The pose that pretends to be fake but looks immensely amazing is this beautiful one that is taken from far away behind the trees. 
The Desi Pose 
It's not mandatory to be stylish every time, you can be desi with a cotton printed saree and give a straight pose that looks something different and unique. These photo poses for girl in saree are really impressive. 
Pose with a Tree
When you are at a travel trip and see some beautiful scenery then you can try this saree pose that will give you a tremendous appeal.   
The Simple background Window Pose
If you are an elegance lover and love simple poses then you can try this pose that is simple and elegant making your photo desirable. 
Sitting on Stairs Pose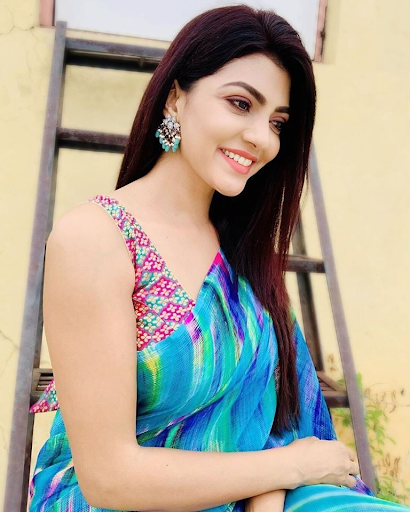 Among all the photoshoot poses for girl in saree, the terrace photoshoot is among the favourites. You can try this sitting on stairs pose for your next photo.    
Side look pose in Dark Background
Pastel shade saree and dark background makes a sophisticated photo. This side look photo pose in saree for girls will make your photo just amazing.  
Fake Smile Pose
Candid pictures are the latest trend and this fake smile pose is the favourite of every young girl. This pose looks really best in saree.   
Pose with Hand on Head 
You can even try this sophisticated pose in a saree. One hand on the head and looking somewhere else like you are lost in a thought. 
Vintage Photoshoot in Saree
Rather than editing your photo in vintage filter you can pose in a dark background to get the vintage effect and have a pretty photoshoot in saree. 
Queen Pose in White Saree
Among the female saree poses for photography this monarch pose in white will make you look like a queen who is royal and bright. 
The Not a Moody Pose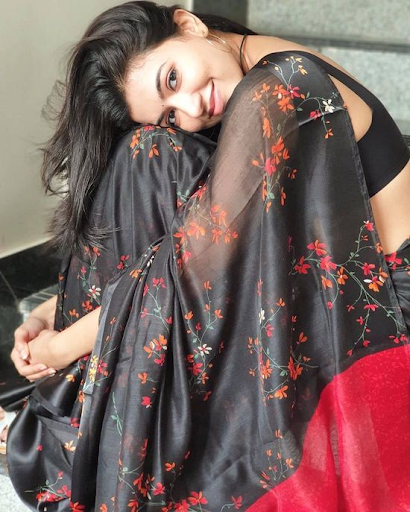 If you are sitting and anyone tells you to click a picture but you are not in the mood teh this pose will definitely make your picture a perfect click.  
Looking Down Pose
Wearing beauty and elegance and giving the right pose will make your picture brighten up in the most amazing way. 
Making the Hair Pose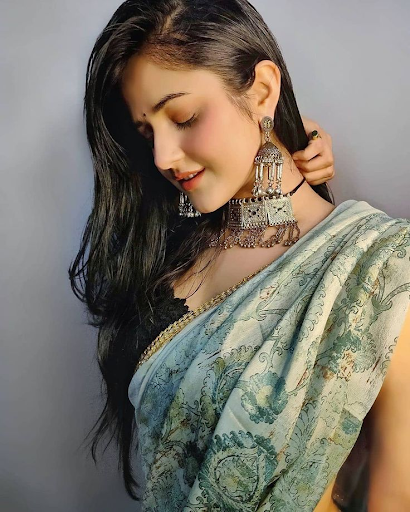 When you don't know what to pose then you can touch your hair and make a cute pose for your instagram picture. 
Bottom Line 
These are some of the instagram worthy poses and now you will not be in a doubt about how to pose in saree for instagram. 
Related Post :