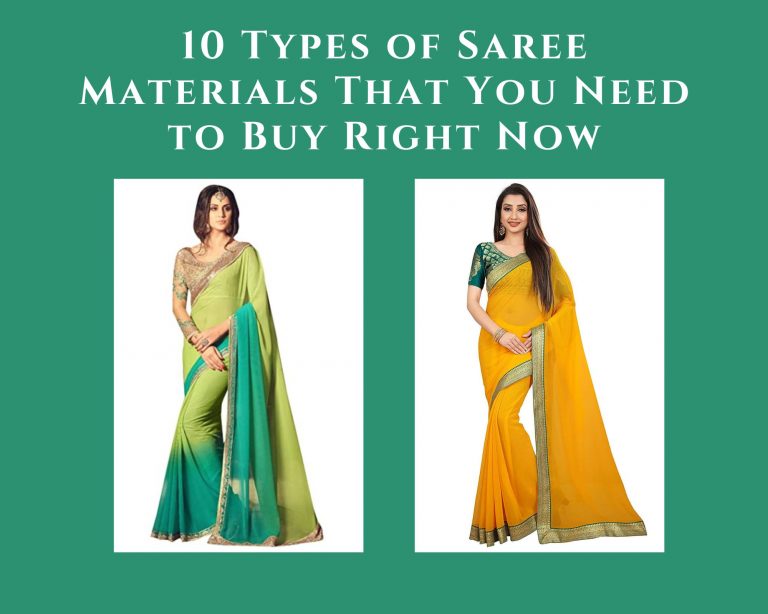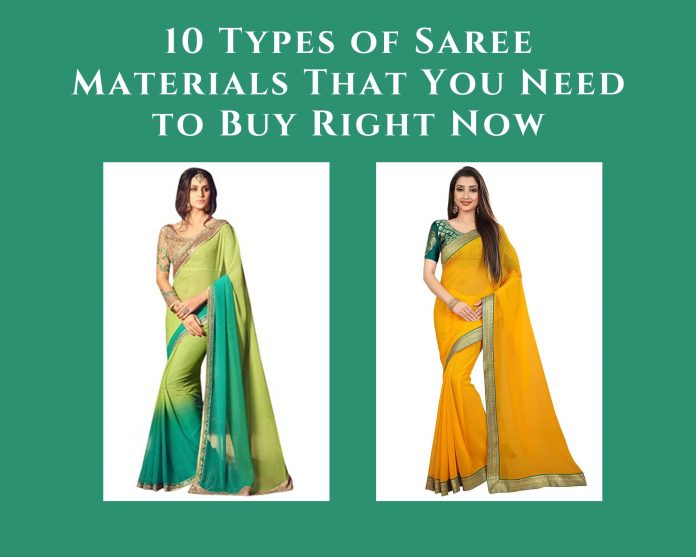 While choosing a saree the very first thing that a woman looks for is its material. A soft, smooth and shiny material is what you always need for a superior appeal.
There are a variety of fabrics in which a saree is found. These amazing fabrics may be printed or plain having a flowy appeal and a smooth texture. 
The material even differs in weight and can be made from natural or synthetic fibers available in abundance. So let's go through some types of saree materials that you need to buy right now. 
Types of Saree Fabrics You Should Know About
Georgette Sarees Materials
The playful and flowy fabric which makes an amazingly sterling saree is georgette. This lightweight material is originally made from silk and nowadays even from synthetic fibers.
Sarees made from georgette have an unwrinkled texture and are found in solid colors with some fabulous prints.
The most lovely print is floral print which gives a classy and mesmerising appeal to the wearer. Pairing it with a plain blouse is definitely going to make a dazzling combination. 
Silk Sarees Materials
Silk is considered to be one of the richest and most royal materials. It also has auspicious significance and is worn at traditional functions and festivals.
This natural protein fiber is made from the cocoons of larvae of mulberry silkworms. 
The material comes in different varieties that differ in smoothness and weight. Silk is also obtained from different insects other than mulberry silkworms and is used to make graceful sarees brand .  
Chiffon Sarees Materials
Another type of saree material that is best known for its delicate texture is chiffon.
The sarees made from it are super glossy with a translucent texture and gives an exemplary appeal to the wearer. It is smoother and lustrous as compared to georgette. 
The beautifully embellished chiffon sarees are a great pick for festivals and special functions.
Combining a stylish blouse brand with it completes the overall look. Add icing to the cake by matching some beautiful accessories with it.  
Cotton Sarees Materials
The list is never completed without cotton. Be it a plain cotton saree or pastel-oriented cotton saree, each one just looks immense.
It is one of the most favorite types of saree materials among women of every age.  
Cotton sarees make the best pair with a quarter sleeves round neck blouse with a backless pattern.
A printed blouse and a plain saree or a plain saree and a printed blouse look super amazing. You just need to choose some drastic combinations. 
Linen Sarees Materials
This one is well known for its fast drying characteristics. It is a textile made from fibers of flax plants.
The fabric is immensely strong and absorbent. It is the most comfortable fabric to wear in hot weather and is best for summers. 
It appears to be one of the oldest fabrics in the world having the most dazzling prints and motifs on it.
The fabric can be dyed in a wide range of colors and can be printed in minimalistic traditional designs and prints. 
Net Sarees Materials
The modish and most attractive material is net. This one differs in weight and textures depending upon the density.
The net sarees are gorgeously detailed with thread embroidery, zari embroidery and pearl embroidery making it super glossy and splendid. 
The craze of a red net saree paired with a matching colored blouse and detailed with thread embroidery is on a high notch nowadays.
The color just looks wonderful at wedding functions and evening parties. 
Satin Sarees Materials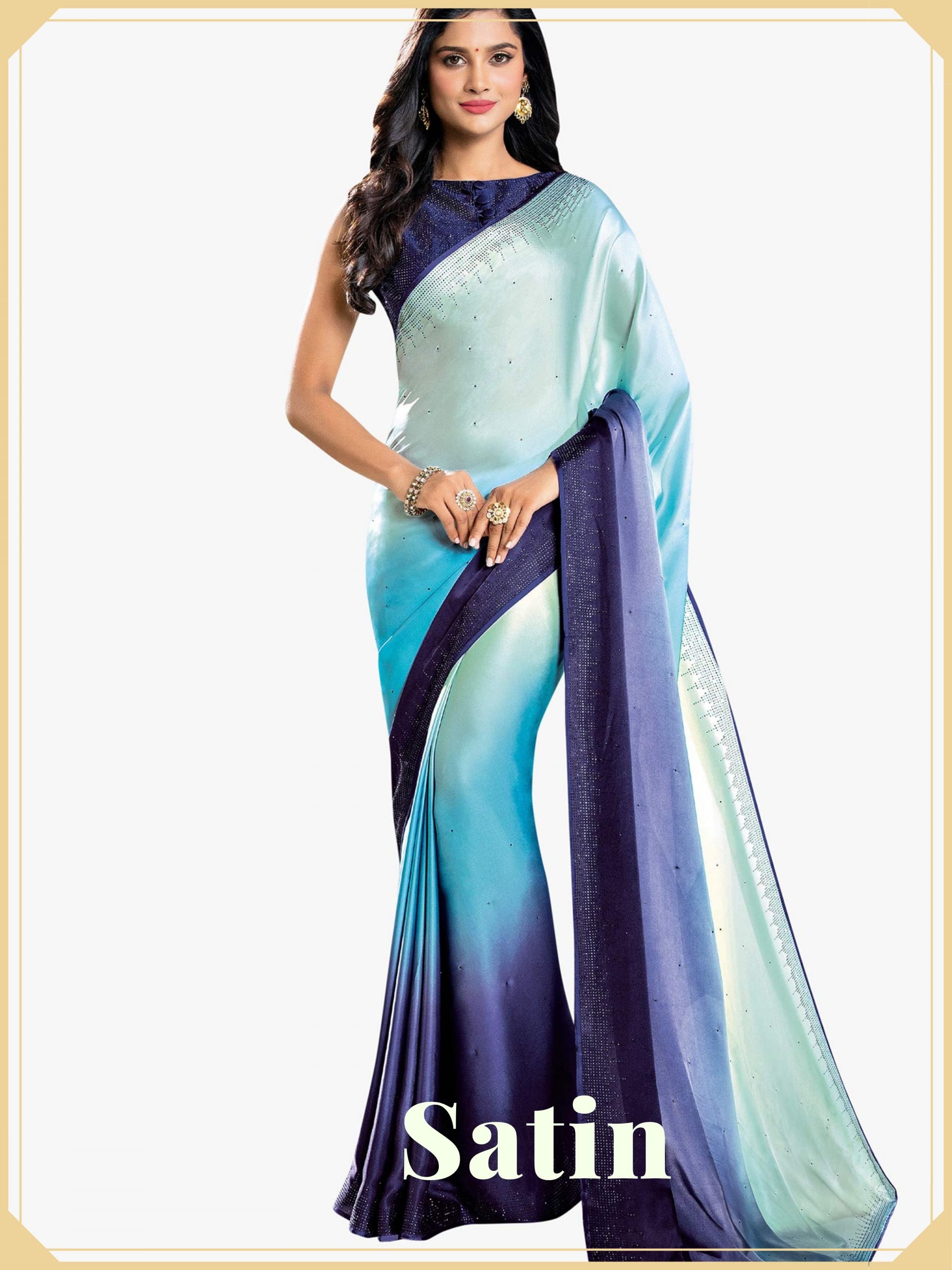 Want something glossy and smooth to wear at a wedding function? Don't worry when you have satin.
It is merely a weave of fabric producing a smooth and lustrous material which is glossy at the top and dull at back. 
Many different variations can be made of basic satin weave including check weave and granite weave.
The sarees made of satin with pretty borders and a dignified pallu is what every lady cherishes to wear at parties. 
Crepe Sarees Materials
From different types of saree materials one astonishing fabric is crepe. It can be satin crepe, silk crepe, or any other crepe as this one is usually made from every fabric.
The satin crepe weave is highly popular due to its shiny effect. 
The sarees made from crepe are perfect to wear on a casual basis and obviously best for an occasional basis.
Usually they have muted colors and for those who love to wear these types of colors they can surely go for the crepe. 
Lycra Sarees Materials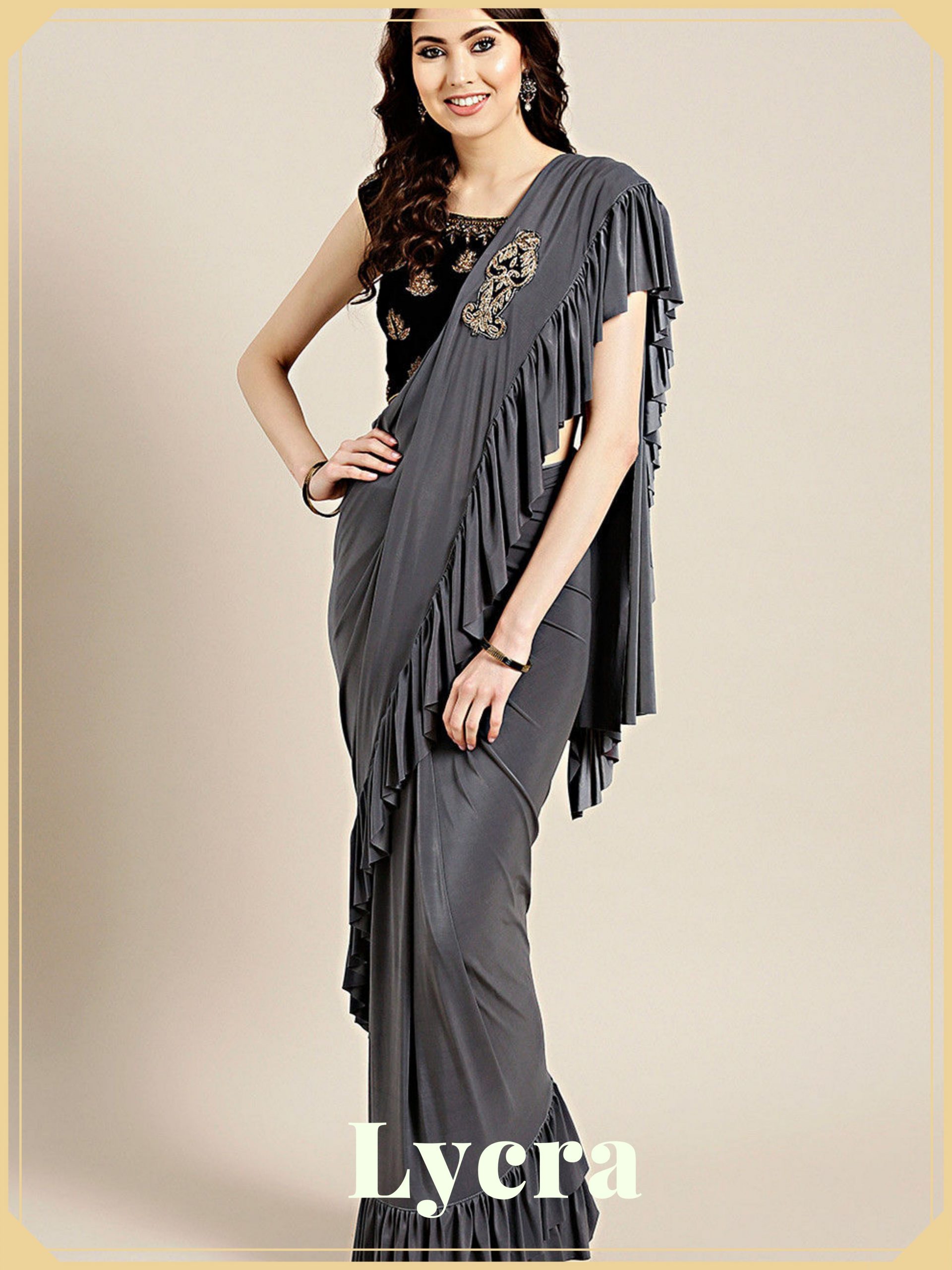 Lycra is a type of elastic fabric which has a flowy appeal and is totally opaque with a bit of thickness.
This jolly fabric is used to make some heavy sarees that are to be detailed with pearls and crystals. 
It is available in a wide variety of color options that are dark and pastel in shades.
You will even find double colored and multi colored lycra sarees that are too royal and classy to handle. It is best for a diva look. 
Jacquard Sarees Materials
One of the heavy fabrics used to make breathtaking traditional clothes is jacquard.
It does not have prints but has designs weaved and embedded on it including florals, paisleys and some mesmerizing animal motifs. 
For a complete traditional appeal you can confidently wear a jacquard saree and look prettiest among all.
Some of the fabrics such as cotton, georgette and silk are combined with jacquard to make it more rich and graceful. 
So just pick your favorite fabric and rock the event whenever you wear it.
Don't forget your accessories as it is mandatory to complete the overall saree look. Add a clutch, and now you are all done! 
Reared Post :