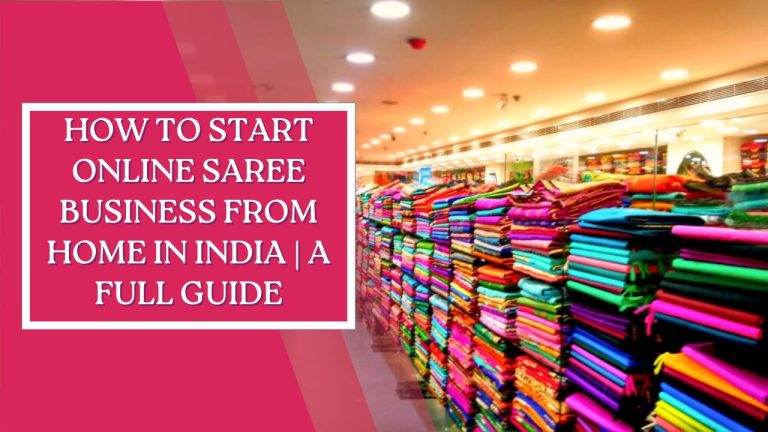 Here Are Some Tips To Start an Online Saree Business To make it Profitable:
Sarees are one of the most highly demanded ethnic attire all around the globe. Women love to wear sarees because it is a festival and a daily wear requirement.
In India, sarees are the favorite of housewives and are worn on a regular basis. If you are planning to start a business, it could be a great option in India.
Starting a Saree Business
The textile industry is growing day by day and is a large part of a country's economy.
Starting a textile business, which usually includes traditional outfits such as sarees, can be a profitable step.
Women have been wearing sarees for years, and they love to dress themselves in the traditional attire at special functions, weddings, and other ceremonies.
The ongoing demand for sarees makes your business idea a top-notch one. Whether it's a hand-woven saree or a machine-woven saree, it has an apparently high demand.
It is an easy way to start a business and run it conveniently from home.
Hollywood is a good smartphone laptop and a proper internet connection to network up with the distributors and run your business properly.
Tips To Start a Saree Business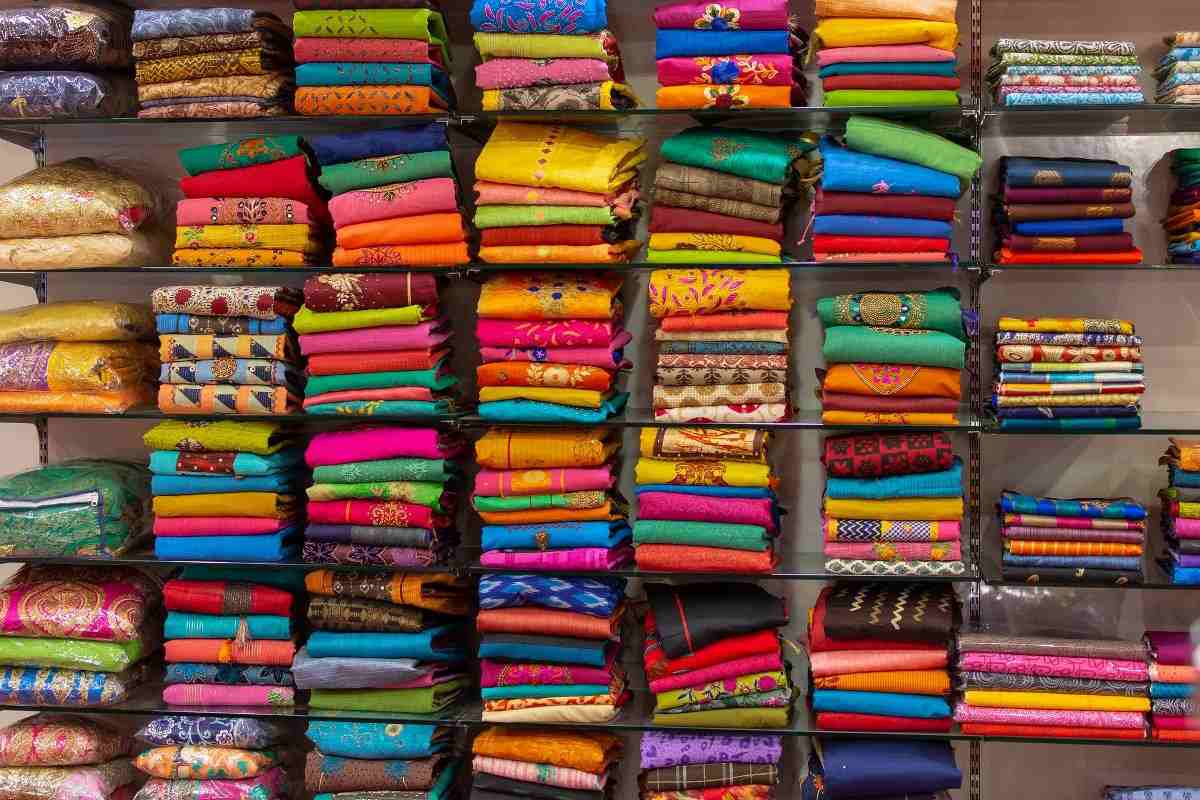 Starting a saree business may not be as easy as you think.
You need to thoroughly look into the market and understand the concept before starting. Here are some tips that will help you start a saree business more effectively.
Understanding The Fabric and Pattern
The most important aspects to look for are the fabric and pattern.
If you are planning to start a local business, then you need to take care of the climatic conditions according to which you can choose the fabric and pattern.
If the area has more humidity and moisture, then choose fabrics such as cotton and georgette, which are light in weight and highly absorbent.
Usually, these are the most popular fabrics for sarees among women.
Know Your Distributors and Manufacturers.
If you are starting from the beginning, then you must know the local manufacturers and distributors of sarees.
There are many who can provide you with wholesale sarees for your startup business.
You will get it at a reasonable price and in premium quality if you buy it directly from the manufacturer.
All you need is to know your requirements and the latest trends, through which you can surely get what you want.
Having Gadgets and Connectivity
In this digital era, it is important to focus on online marketing. Nowadays, people prefer to have everything at their fingertips.
So it is mandatory to make your presence known online. For that, you don't need much but a supportable electronic gadget and good internet connectivity.
You can engage with potential customers online through these gadgets. A smartphone or laptop on which you can install social media apps is a better choice.
Creating a Website and Social Media Account
To make your online presence more appropriate, you need to create a website and social media accounts.
Social media is all that you need in an hour. Posting videos and pictures on social media can make your account popular among buyers and attractors.
People can make online purchases through your website, and social media accounts such as Instagram or WhatsApp are better for your online presence.
Understanding Customers
Another thing is that you need to understand your customers. Every age group has their own choice of demand.
So first, research the market to see what the demands of your customers are and how you can give them what they need.
With your offline store, make your online store a better one for your customers, through which they can make better purchases.
Determining the Cost
Also, you need to determine the cost of keeping low-range sarees as well as high-range sarees.
Can filter the choices and get the right amount of saree that they want. daily wear sarees wholesale, party wear sarees, and bridal sarees so that people can get what they want easily on the website and social media pages.
Tie-Up with E-Commerce Companies
Another better thing is to tie up with an E-Commerce company that has a variety of sarees.
They can provide you with the latest trends and fulfil all your requirements. Also, you can get inexpensive products for your startup.
They even take care of logistics so that you can focus on your products and their reliability.
And the best part is that they themselves check the saree quality so that you can get the best product.
Preparing a Business Plan
Most importantly, you need to make a business plan so that you can keep everything on track.
From purchasing to selling, you must have a business strategy so that you can figure out what your customers want.
Making a flexible business plan would help you understand the customers demands and requirements, making it even easier for you.
Accepting Different Payment Modes
One of the most common difficulties for every customer is payment mode. Make it easier for your customers by accepting every payment mode as well as cash.
Housewives prefer cash-on-delivery options, and many of them prefer UPI payments.
Check out the policies and rules regarding payment activity so that you can do it more easily.
Wrap Up
Nowadays, it has become easier to start a saree business online or offline.
Due to the high emergence of textiles in India, you can easily get the sarees in bulk and start your own business even at home.
So if you are also planning to start a business, then all you need to do is go through the above-mentioned points so that you don't miss anything for your startup.
Also there are many websites through which you can buy your desired sarees in bulk and at reasonable prices for your new business.
They provide you premium quality sarees and other ethnic outfits through which you can start your business perfectly.
So what are you waiting for? Turn your plans into reality and set up your saree business.
FAQs
How Much Investment Do I Need To Start a Saree Business?
Ans. You will require a minimum investment of 3 to 5 lacs to start a saree business in India.
How Can I Attract Customers?
Ans. Collaborate with the manufacturer and suppliers for your business and focus on the social media trends to attract the customers. 
What is The Future of a Saree Business?
Ans. The ethnic business has flourished a lot in the recent years and sarees are not only popular in India but even have their craze in other countries. Therefore you can gain a good profit with little investment in saree business. 
Is Selling Saree a Good Business?
Ans. Saree has a never-ending demand therefore selling saree is a good and profitable business both online and offline. 
How Can I Start My Own Saree Business?
Ans. Create the budget plan and online marketing strategy to work smoothly on your business and then start the business. 
What Are The Advantages of Saree Business?
Ans. With the help of saree business you have a higher chance of attracting and encouraging local as well as international customers. 
How To Choose The Right Saree for Your Business?
Ans. Always go with the trend. Understand the business market and what your customers are looking for.
SareesAre Famous in Which Country?
Ans. Sarees are now popular all around the globe but the most common countries where they are famous are India, Sri Lanka, Bangladesh and Nepal. 
Which Saree is Best for Daily Wear?
Ans. Fabrics such as cotton, georgette and chiffon are some of the most popular fabrics for daily wear. 
What Are The Trending Saree Materials?
Ans. The trending saree materials which make you look rich and royal are silk, jacquard, organza and georgette.   
Why is Saree So Popular?
Ans. The outfit is popular due to its elegance and beauty as well as gorgeous designs. 
Are Saree Still in Fashion?
Ans. Sarees are one of the most popular outfits all over the world. Their designs and fashion may change but they always remain in fashion and are an evergreen choice. 
Which Are The Most Common Sarees?
Ans. Some of the most common and popular sarees brand are banarasi silk saree, patola silk saree, kanjeevaram saree and printed cotton sarees. 
Is Saree an Official Dress?
Ans. Saree is the traditional outfit of India and can be worn formally or informally depending on the prints, patterns and fabric. 
Can Every Woman Wear a Saree?
Ans. Women of every age can wear saree as they are popular among youngsters for farewell and other special occasions as well as married women.