Saree! Saree! Saree! Who's not a saree lover? A woman can't imagine any function without a saree.
Her wardrobe is equipped with a collection of sarees that are plain, printed and heavily embellished.
There are many different brands and ranges of sarees popular worldwide. These sarees are just breath-taking and every woman cherishes wearing them on different occasions and wedding functions too. 
These are some of the prettiest and most popular sarees brands in India that are every lady's favourite.
All these sarees are decorated with latest and trending embroideries and are worn by celebrities too.
The sarees are worn by our Bollywood divas in movies and events and their fans get a perfect style statement from it.   
Sabyasachi 
Official Web Site: https://www.sabyasachi.com
One of the most popular Indian fashion designers who is known worldwide for his amazing designs and intricate work is none other than Sabyasachi Mukherjee. He started the brand under his name in 1999. 
He is one of the youngest board members of National Museum of Indian Cinema and one of the Associate Designer Members of Fashion Design Council of India.
His saree mainly focuses on the Indian traditional designs and uses moderate Indian colors that gives an amazing touch to those sarees. 
Manish Malhotra
Official Web Site: https://manishmalhotra.in
Another name in the list is Manish Malhotra. The historical dramas of Bollywood are incomplete without these sarees.
The divas even wear the sarees at the red carpet, lakme fashion week and many other special events. 
He started his career in the early 90's and he is widely known for his work in Bollywood, Hollywood, Telugu and Tamil cinema and television as well.
The label offers bridal, couture and men's collections with retail stores in Mumbai and New Delhi. The label even retails multi-brand boutiques across India and in Dubai. 
Ritu Kumar 
Official Web Site: https://www.ritukumar.com
When we are talking about Indian saree brands then we should not forget Ritu Kumar Sarees.
She leads in the traditional Indian sarees and other outfits. She began her business in Kolkata with two small tables and hand block printing techniques. 
She eventually moved to the international market within two decades. Apart from her shops in India she even has branches in London, Paris and New York.
The designs majorly focus on natural fabrics and traditional weaving and printing techniques. Since decades it is one of the most popular saree brands.
Satya Paul 
Official Web Site: https://www.satyapaul.com
Designer sarees, kurtis, dresses and lehengas from Satya Paul are the dream of every lady.
This Indian designer label was founded in 1985 with fashion clothing and accessories. The ready-to-wear designer suits and lehengas are the specialties of Satya Paul. 
The sarees made under this label are detailed with some intricate designs and motifs that make it perfect for every Indian function and event.
The flawless Indian shades including red, green, blue and black are found in a wide range under this label that was founded by Satya Paul and helmed by Sanjay Kapoor. 
Gaurang
Official Web Site https://www.gaurang.co
From the top saree brands Gaurang is also one of them. Gaurang Shah is well known for his creative handloom sarees, the beautiful traditional silk saree and some amazing zari work sarees that will make your evening more happening. 
The brand is famous globally with certain stores in India and abroad having a wide collection of beautiful sarees and other ethnic wears too.
The sarees are created using Jamdani techniques with pure zari on cottons and silks which are super ravishing. You can blindly choose anyone to wear to Indian festivals and functions to get a diva appeal. 
Tarun Tahiliani 
Official Web Site https://www.taruntahiliani.com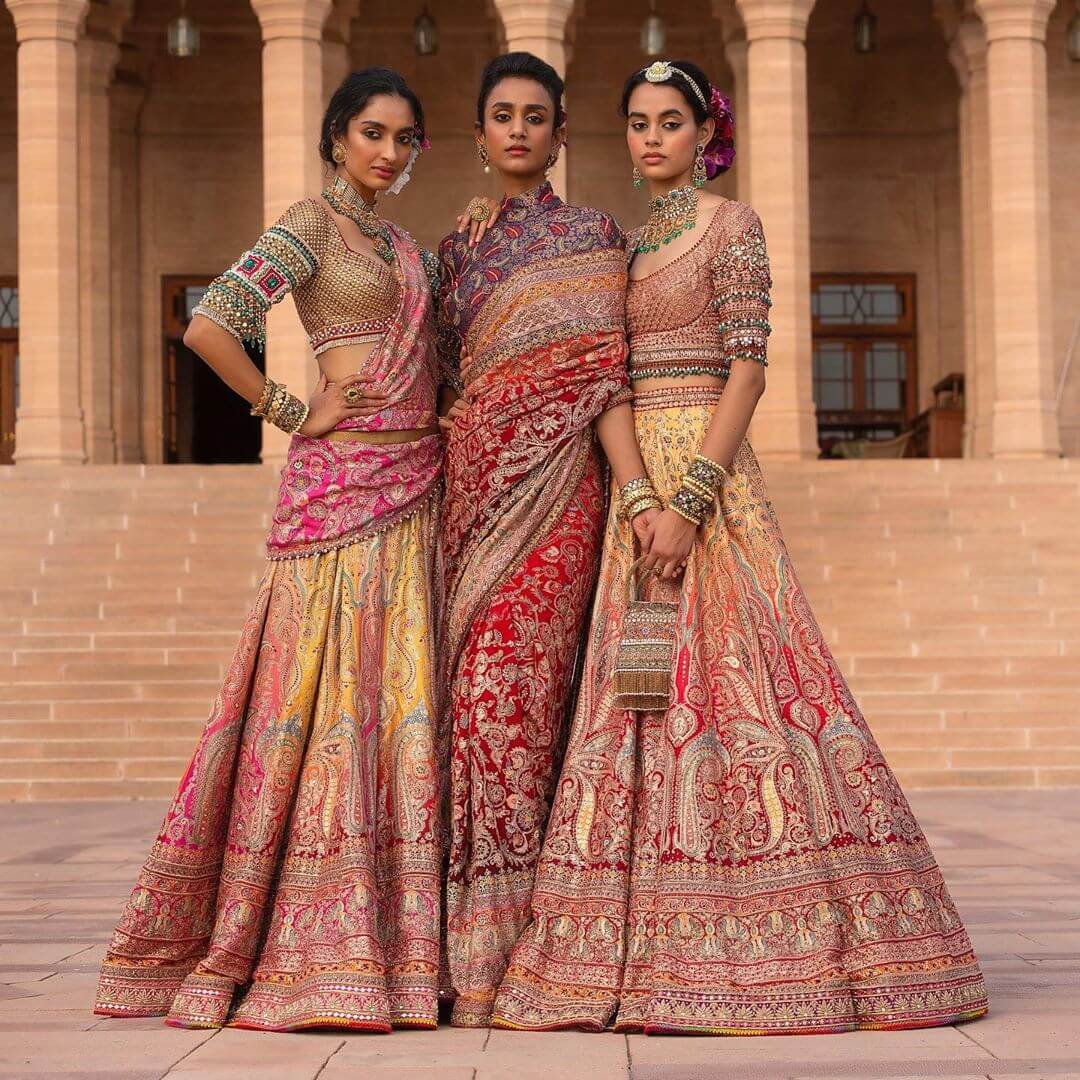 India's first multi-designer boutique was founded in 1987 by Tarun Tahiliani and his wife.
He is best known for the fusions of Indian craftsmanship and textile heritage with tailored silhouettes.
His bridal wear is extremely popular among actresses in reel and real life as well.
Every bride cherishes wearing the beautiful Tarun Tahiliani saree at the reception party and engagement ceremony.
From bright red to pastel pink you will get everything here. Her wife Sailaja opened her first multi-designer boutique "Ensemble" in India in 1987 with the help of designer Rohit Khosla in Mumbai that offers a range of Indian ethnic wear.   
Fab India 
Official Web Site https://www.fabindia.com
The famous Indian fashion chain dealing with retailing garments, furnishing, ethnic products and fabrics is FabIndia.
It was established in 1960 by John Bissell in Greater Kailash, New Delhi. As of July 2020, there are 327 stores all over India and 14 international stores. 
It sources the product from across India through 17 community owned companies from which certain percentage shares are held by craftspersons and artisans.
The products are sourced from villages helping to sustain the rural employment in India. This is the reason why the outfits have such an immense traditional touch. 
BharatSthali 
Web Site https://www.bharatsthali.com
One of the major saree brands that is popular for cotton sarees, linen sarees, silk sarees and some regional sarees is BharatSthali.
It is the one stop destination for extremely gorgeous sarees. You get delightful readymade blouses with alluring designs here. 
The most amazing sarees are raw silk sarees in beautiful colors, south silk sarees including zari embroideries and handloom sarees that are shiny and smooth.
The rich Indian tradition and heritage is what BharatSthali offers our pretty ladies. You will definitely get the most fascinating sarees here. 
Nalli Silk Sarees
Official Web Site https://www.nalli.com
Since 1928, the utmost fabulous silk sarees that you find in India are from Nalli silk.
It is Chennai based Indian wardrobe store and silk saree emporium. The pure silk sarees, kanchipuram sarees, finest georgette banarasi sarees and minimalistic Bangalore sarees everything is available here. 
It is the silk saree hub having the saree in each and every color, each and every design and some tremendous patterns.
The collection even includes handloom sarees which are loved by those who like to wear the traditional lightweight sarees with handpicked designs and zari work.   
Kalaniketan 
Official Web Site https://www.kalaniketan.com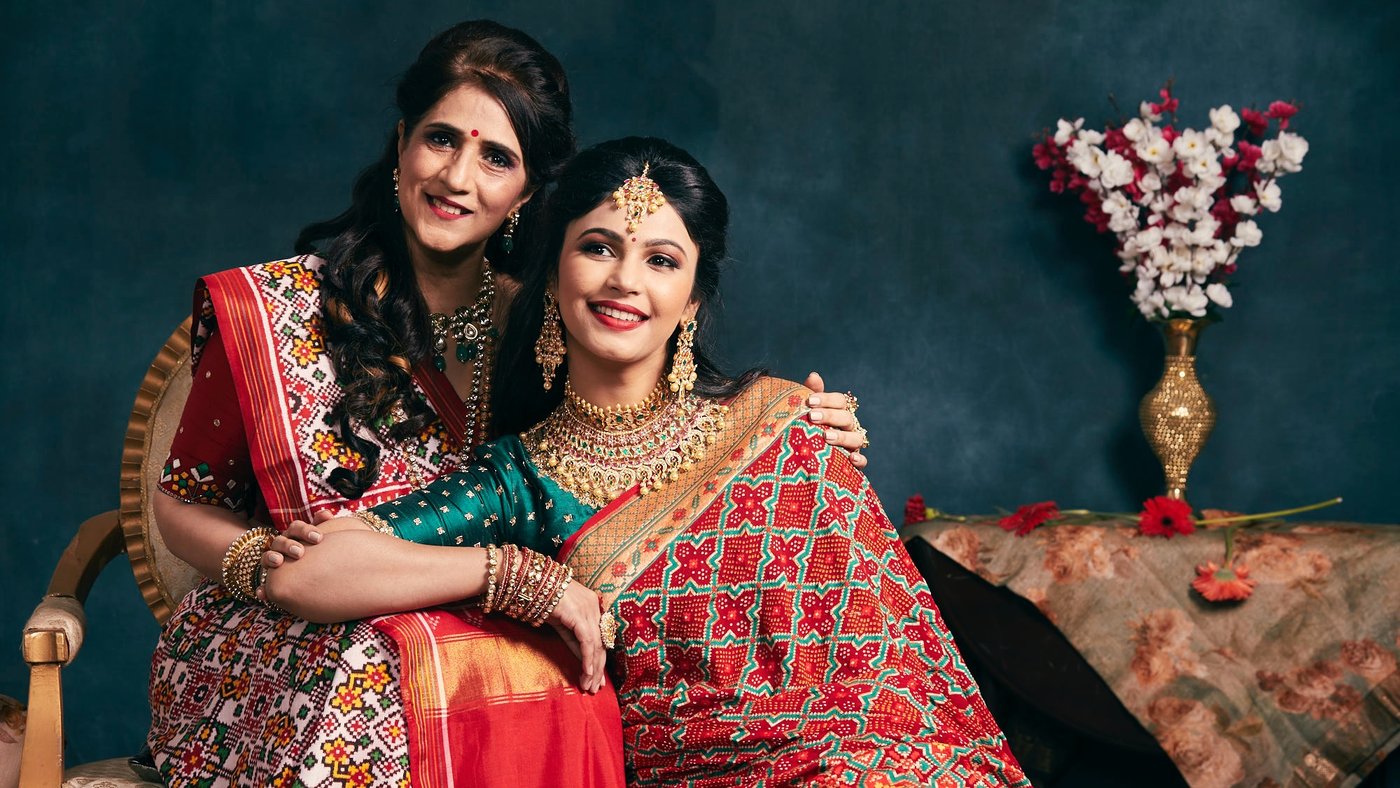 One more in the list that was founded by Parekhs from Gujarat in 1951 is Kalaniketan.
The village of Savarkundla, Gujarat is believed to be the place from where it emerged.
The history goes a long way telling from where it all started and today how it has reached the peak. 
The small 200 sq. ft. shop is now one of the most renowned Indian brands known for its sterling saree designs.
From silk collection to cotton collection, everything has minute details that are amazing and has bewildering effects.
These lovely sarees are what every woman wishes to wear today as it is favorable for every function. 
These are the top saree brands in India that are going nowhere and will always serve you with the best and most trending designs.