The combination of a kurtis with jacket for ladies is just astonishing. It is basically a two-piece attire that consists of a kurti and a jacket that vary in length.
Both the kurti and jacket have different lengths and flares which makes a magnificent pair at the end.
Apart from jackets some beautiful net capes are also added to the kurti makes it look even more adoring and embellished. 
Kurtis that are worn along with jackets gives a voguish appearance to the wearer.
The jacket may be printed or can be embellished with some sparkling and shining crystals.
Here are some of the prettiest kurtis with jackets and cape that will help you look a perfect fashionista. 
Straight Kurti with Floral Jacket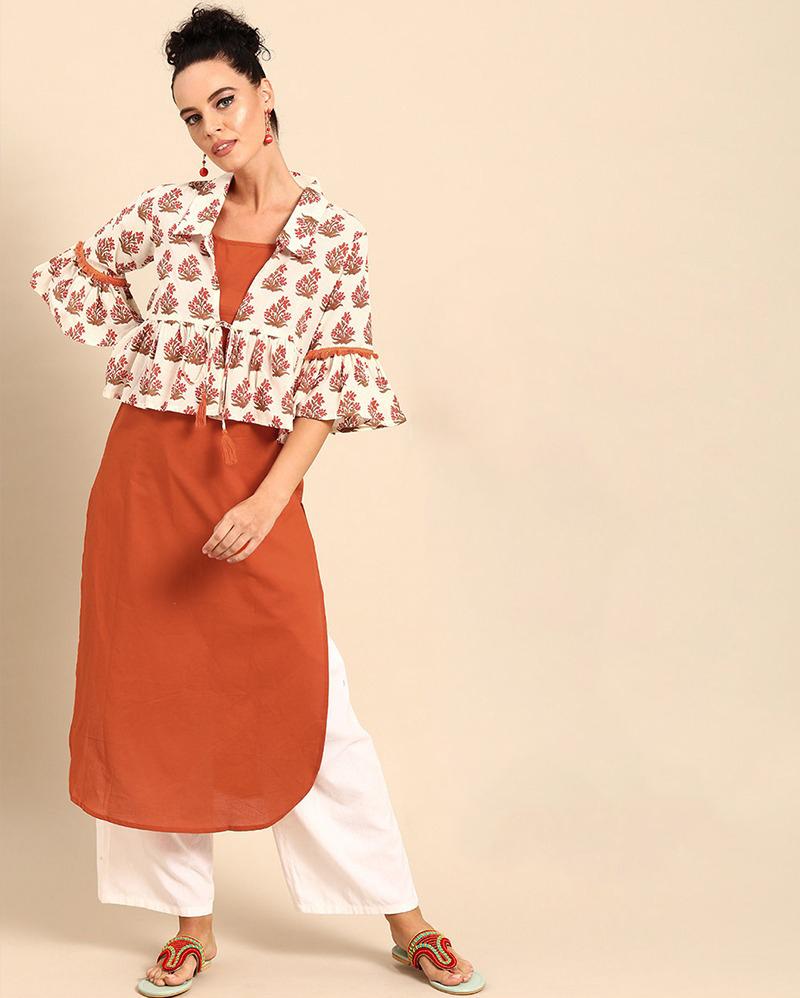 A straight-side slit kurti paired with a short jacket having pretty colorful thread embroidery is just an awesome combination.
Other than that you can even choose this attractive straight kurti with frill sleeves white jacket and matching pants to get a decent look.
To complete the look, pair some accessories and get it done. 
Anarkali with Short Jacket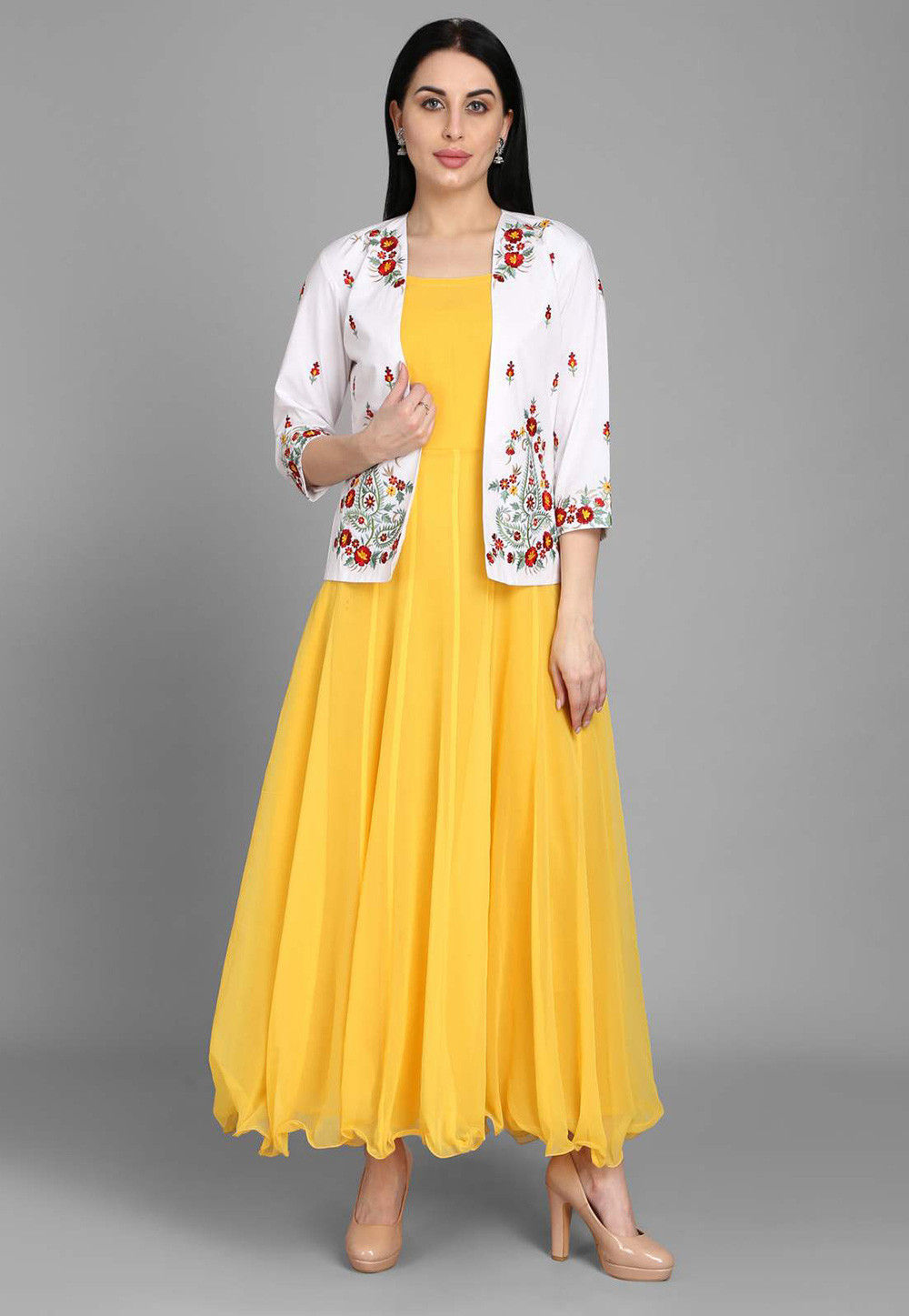 The long and flared anarkali kurti paired with a waist length long sleeve jacket is the real eye-catcher.
This ethnic attire is so delightful that you must have it in your wardrobe.
While hanging out with friends or going on a trip you can without any doubt choose this one and get a beautiful appeal. It can also be a long jacket as per the design of the kurtis with jacket for ladies. 
Slit Kurti with Net Cape
Be photo-ready by wearing a long slit kurti with a designer net cape that is embellished with pearls and diamonds.
This outfit will definitely give you a diva appeal. Pairing this kurti with narrow pants will make a perfect match.
This comfortable attire will give you an immense look and will be your best companion at every function.
Plain Kurti with Printed Jacket
A plain straight kurti with a short jacket or an anarkali with a cape both are right choices for a family gathering or a kitty party.
The floral printed jacket is the most graceful match with a plain kurti.
You can pair the kurti with denim jeans or can match fitted pants for a stunning appearance. Just match the right color combination. 
Kurti with Block Print Jacket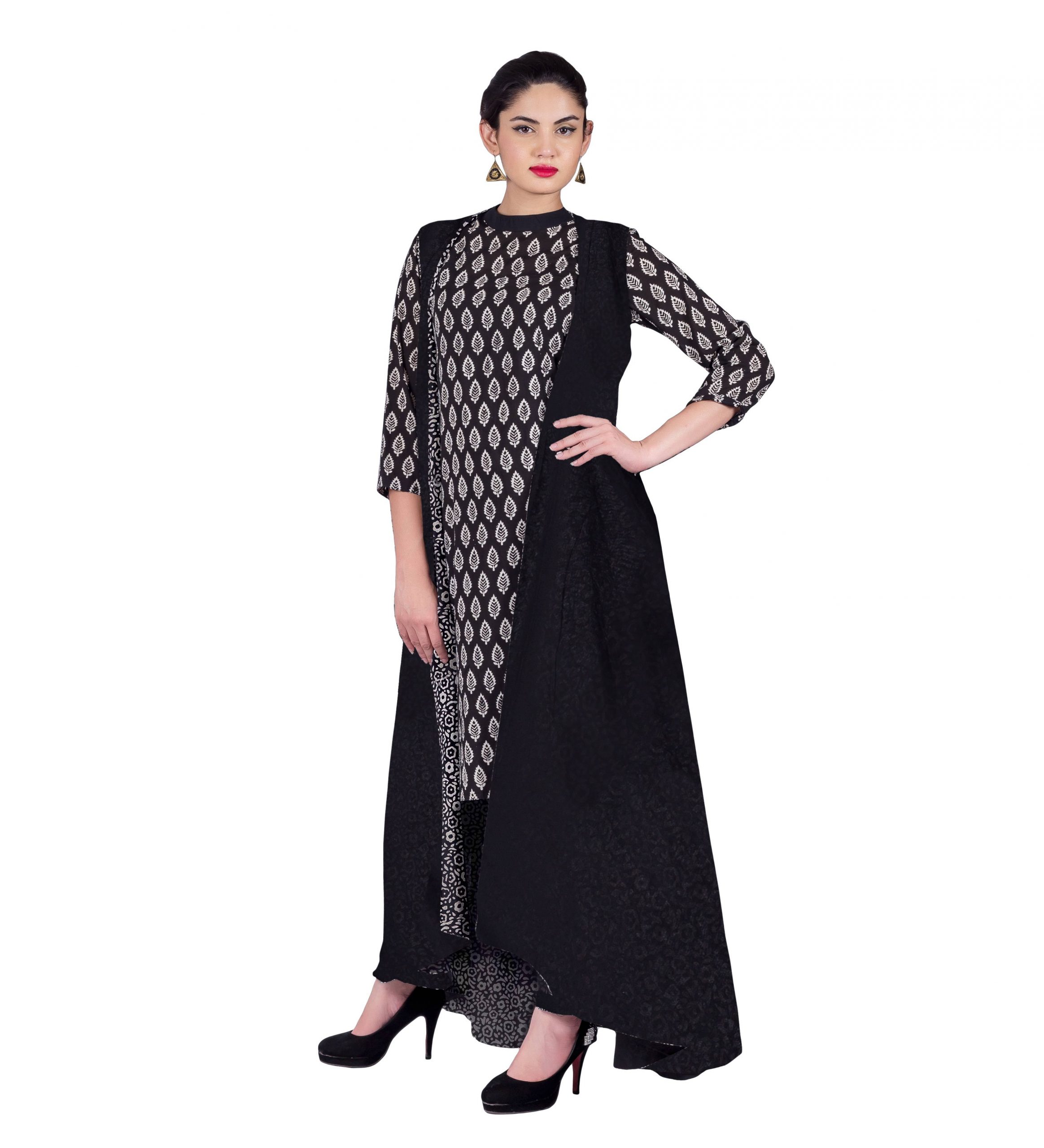 Block print can never ever be denied. This hand print is always a perfect pick for casual wear and occasional wear.
An intricately block-printed jacket paired with a simple kurtis with jacket for ladies looks astonishing.
The combination of light and dark shades on the jacket is highly attractive and it will surely make you the center of attraction. 
Kurti with Denim Jacket
How about pairing a beautifully printed kurti with a denim jacket. The pretty denim jacket with pockets and long sleeves can be paired along with any color kurti.
Either it's a black ruffle kurti or a floor-length anarkali kurti, the jacket is going to look awesome with each one of them.
A plain white kurti paired with a sleeved denim jacket and matching jeans is the right casual wear. 
Kurti with Sequin Jacket
Shimmer everywhere! A golden long sleeve jacket paired with a plain floor-length kurti in pastel color looks exemplary.
Neutral makeup and a simple hairdo complete the entire look.
This attire looks best at evening parties and is eligible to provide you with a diva appeal.
This trending outfit is the latest pick of every young girl. 
Read Also: Top 10 Most Popular Sarees Brand in India
Flared Kurti with Long Sleeves Cape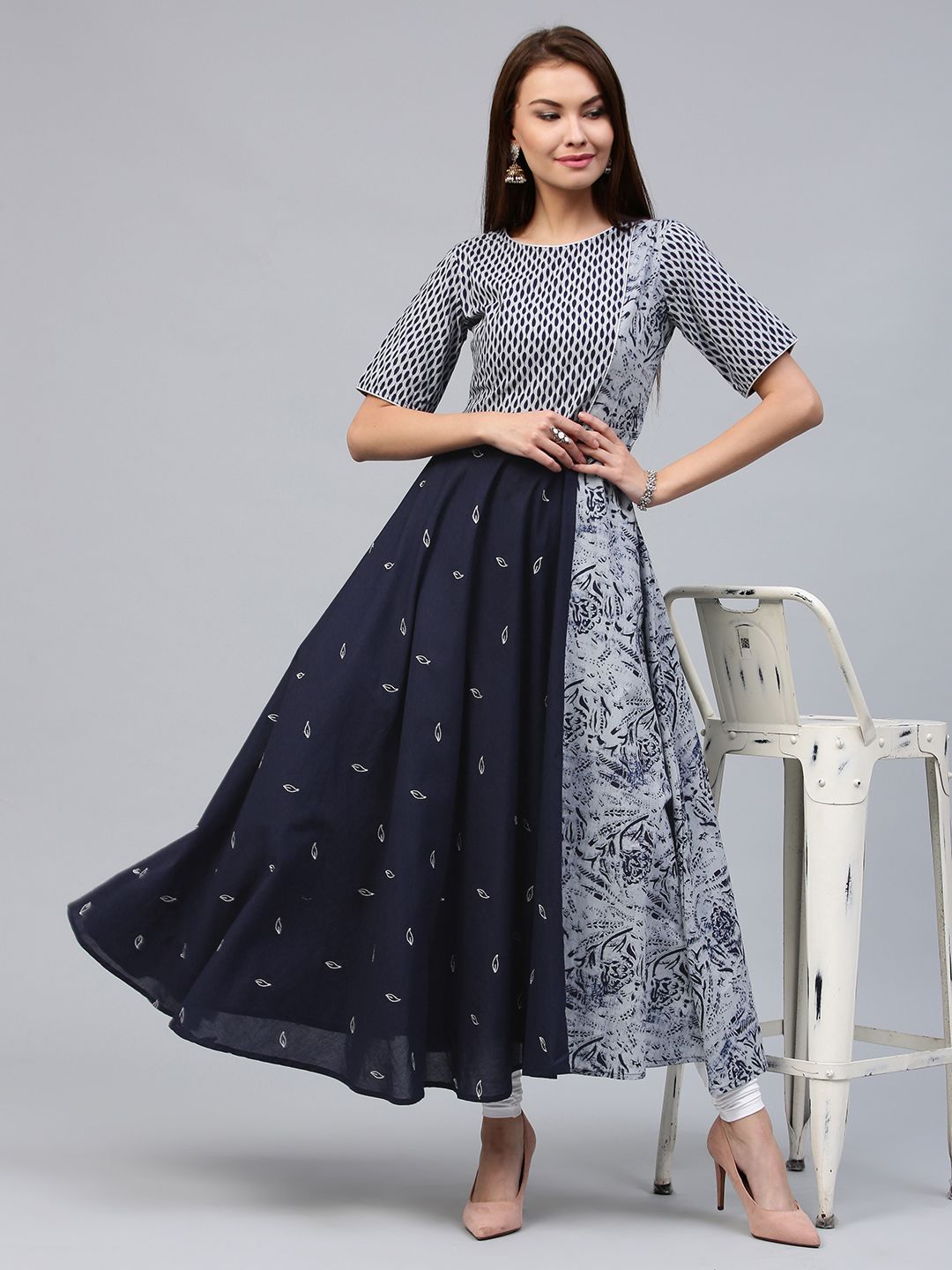 Like jackets, net capes are also the trending piece to pair with wholesale kurtis. This appealing cape gives your boring kurti an embellished look.
The combination of a floor-length kurti and a pearl-embellished net cape is a classy attire that can be worn at birthday parties, evening parties and festivals.
Adding some pretty accessories complete the entire look with the best kurti brands in India.
Kurti with Floor Length Jacket
A simple kurti and a printed or embellished floor length jacket makes a sterling combination.
The flared kurtis look charming with the jackets having a front tie-up with hanging tassels and some flawless embroideries.
A full sleeve-long leheriya jacket or a traditional colorful bandhani jacket is a delightful piece for different occasions. 
Kurti with Tie-up Jacket
A jacket having attractive tie-ups in front or at the side makes it look more graceful.
One best thing about a tie-up jacket is that it gives a perfect fitting and you can adjust it as per your choice.
A plain kurti and a printed jacket with fewer embellishments make a fabulous pair. Wearing it with an appropriate bottom completes the entire outfit. 
Read Also: