Most Popular Types of Banarasi Sarees in India
Banarasi sarees are the insane essence of beauty. They are immensely popular due to their richness and royal appeal.
These sarees are from Varanasi, Uttar Pradesh, and are well-known all around the globe for their intricate design and minimalist look.
The finest Banarasi sarees are characterized by their intricate weaving designs, floral motifs, and resham work.
The sarees are well known for wedding trousseau due to their lustre and glossy appeal. Brides love to wear these traditional sarees at different wedding functions.
There are a wide variety of banarasi saree brands with different details and weaves, from which you can choose the most appropriate one as per your convenience.
The Top 10 Popular Types of Banarasi Sarees
Banarasi sarees emerged during the Mughal era, when Muslim artists and weavers chose Banaras to begin silk weaving.
There are mostly four categories of Banarasi sarees and some other classifications based on their work and design.
The sarees are embellished with gold and silver zari or brocade on quality silk and some lavish embroidery, making them one of the finest sarees in India.
Shattir Saree
Shattir is a lightweight fabric that is used to create exclusive designs and contemporary patterns under the category of banarasi sarees wholesale.
They are the lighter and more sophisticated ones, making them fashionable in modern times.
It is an ideal choice for brides who love to wear something light and contemporary at some of the pre-wedding or post-wedding functions.
They are available in a wide range of colours and are a blend of cotton and silk that makes them highly comfortable.
Katan Saree
Katan is a plain woven fabric made up of pure silk threads. This fabric is made by twisting two threads together, which produces a sturdier and more durable fabric.
Katan is considered to be one of the lightest, softest, and finest qualities of wholesale silk sarees fabric.
The Banarasi Katan sarees are one of the finest silk sarees in the world. They are well known for their intricate embroidery and designs.
The gold and silver zari as well as the pretty embroidery make the saree look extremely gorgeous.
Kora (Organza) Saree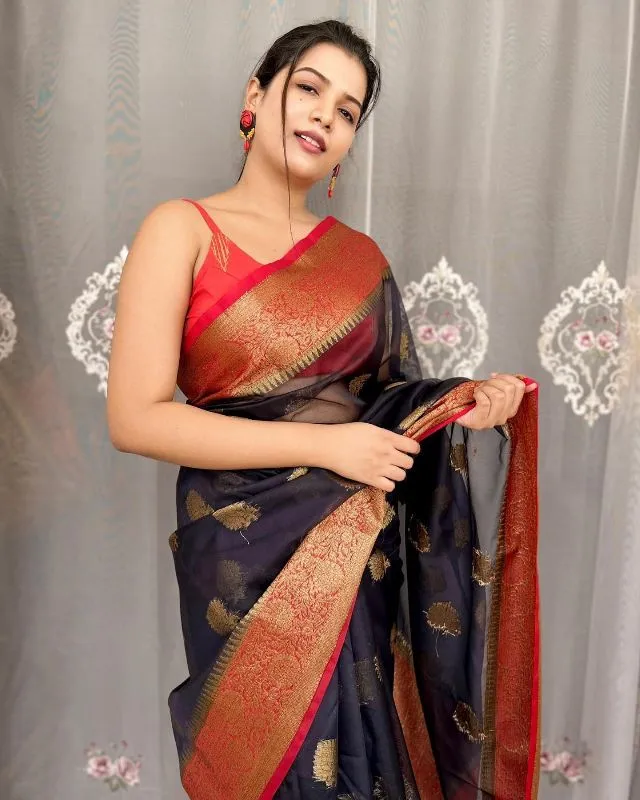 The Indian equivalent of organza is known as kora. It is an undyed and untreated silk fabric that is known for its lustre and shine.
These sarees are often detailed with zari threads and resham work, making them a perfect choice for every auspicious function.
This pretty organza silk saree is available in a wide range of colours. The silk is popularly used to make Kovai Kora cotton sarees. This light and sheer fabric is highly comfortable and attractive.
Georgette Banarasi Saree
The most popular fabric among women is georgette. Banarasi sarees made of georgette are well known for their comfort and pretty design.
The fabric was originally made of silk and is well known for its flowy characteristics.
A pure Banarasi georgette saree in red, green, and other dark shades will give you a fascinating appeal whenever you wear it. Pairing it with a plain silk blouse would give you an everlasting appeal.
Tanchoi Saree
The weaving technique that involves a single or double wrap with two to five colours on the weft of the same shade makes a pretty saree.
The tanchoi banarasi sarees are fine-weave sarees with extra weft thread, creating a delicate pattern.
Wearing these sarees at different occasions and festivals will make you look like a perfect Diva.
Pairing it with traditional jewellery and a matching blouse to finalise the overall look. They are remarkably one of the prettiest banarasi sarees among all.
Read Also : Top 10 Best Banarasi Saree Market in Varanasi
Cutwork Saree
The cutwork Banarasi sarees say something amazing and highly adorable. They are made with an easier weaving technique, and handlooms are power looms where the motifs are woven together in the saree.
The rivers of fabric show loose thread between the motifs that are manually cut, leaving rough edges around each of the motifs.
It is one of the most highly admired Banarasi silk sarees among brides for special occasions and functions.
These cut-work sarees are a perfect blend of simplicity and elegance, having flowers and leaves overall.
Butidar Saree
As the name suggests, the butidar sarees have buti or buta all over them and are a result of the karhwa or fekua weaving technique.
Even these butidar designs are classified into different shapes and varieties that can be half straight or other to make a profound saree.
The saree is beautifully crafted with silver, gold, or silk brocades. They even include angoor bel, gojar bel, khulta bail, baluchar bail, and many more traditional patterns to make it look more luxurious.
Jangla Saree
Another popular variety of Banarasi saree is the Jangla saree, which is inspired by 'jungle'. These sarees have beautiful motifs of vegetation, dense zari, and exquisite weaving.
These patterns usually include hunting scenes, animals, birds, and human figures, capturing the essence of ancient activities.
These beautiful sarees have intricately woven borders that make an eccentric statement when you wear them on weddings and other occasions.
Tissue Saree
The tissue silk saree is a lightweight and delicate Banarasi silk saree. The integrated women's tissue saree with golden zari weft gives a rich and luxurious texture to the attire.
The saree is light in weight and looks amazing when worn in the evening.
This tissue Banarasi saree is also known as the golden fabric because of its sparkling gold weave and is an excellent choice when it comes to weddings and festivals.
Jamdani Saree
Another brilliant type of Banarasi saree is the Jamdani saree. Here 'jam' means flower and 'dani' means what do these sarees have?
A beautiful view of a flower was all over them. It is a unique type of silk brocade with cotton worn at different occasions and festivals.
This is a handloom premium saree with a classic floral design and delicate weave. As a bride, wearing this saree to the reception ceremony will make you the perfect Indian bride.
End Note
Listed above are some of the most popular types of Banarasi sarees that women love to wear on different occasions and for wedding functions. Each saree has its own beauty and pattern that makes it different from the others.