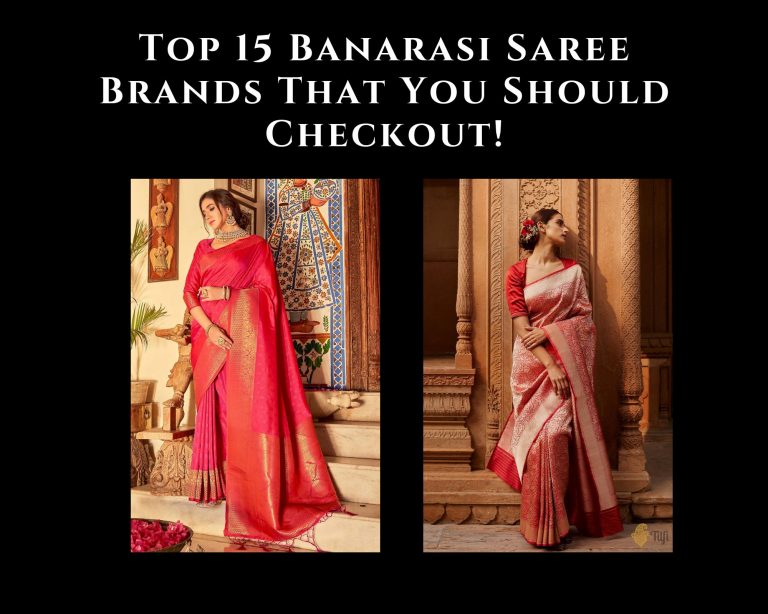 Traditional Banarasi textiles have a timeless allure.
The selections are plentiful, ranging from their eye-catching colour schemes and themes to the various textures they come in.
A few banarasi saree brands are advancing traditions and modernising the concept of a Banarasi sari.
These brands are drawing attention to Banarasi saris with their modern motifs and patterns.
NoteThese 15 Banarasi Sari Labels:
1. Ohfab
Ohfab provided Aanchal and Akshita Sagar with a way to reconnect with their ancestry.
They innovate and make some of the most stunning Banarasi saris in close collaboration with the craftsmen and weavers of Varanasi.
But they also specialise in lighter variations, such as banarasis combined with jamdani from Bengal and timeless lightweight dupattas with a variety of beautiful embroidery.
Pure collectibles, their light Banarasi Tanchoi saris.
In addition, they produce a wide range of lightweight, portable saris with Banarasi borders.
2. Tilfi
Tilfi, a company that was established in 2016, focuses on keeping up with modern clientele that are discerning while still celebrating traditions.
Their exquisite Banarasi saris are without a doubt family treasures. But what sets them apart is how they've modernised tradition.
Their experiments typically centre on design. As in their Kashi sari, which has themes drawn from the ghats.
Additionally, they have experimented with hand-painted designs, shibori, count tie-and-dye, and dyeing processes.
Undoubtedly one of the brands of Banarasi saris to keep an eye on.
3. Payal Khandwala
Looking for a more captivating silhouette? Payal Khandwala, a renowned Indian designer, makes the most opulent lehengas, waistcoats, and pantsuits in Banarasi while adhering to the traditional weaves.
She wants to give traditions a more modern twist even though she believes in keeping them alive.
4. Shanti Banaras
Shanti Banaras, led by Amrit Shah, is a one-stop shop for lovers of Banarasi textiles.
They will offer a wide range of gorgeous saris, lehengas, and ethnic outfits. Most of their interventions use design motifs (think resham geometricals).
These weaves combine dampaj and satin, pressing the shuttle barely halfway and forcing several wefts through it at once to give the sari the appearance of a painting.
5. Kshitij Jalori
Looking for a Banarasi that is distinct yet timeless? Kshitij Jalori, a renowned textile designer, might know the answers.
You can see his interpretation of traditional weaves by taking a look at his social media page in addition to the ode to vintage festive saris, there are also light kurtas, tunics, dresses, jackets, elegant pantsuits, and more.
Jalori's unique interpretation of the traditional Banarasi is evident in his use of real gold and silver in his zari as well as in the development of fresh, modern designs and art-deco inspired prints.
6. Via East
Via East is a brand that Deeksha Sharma, a recent NIFT graduate, founded.
Its line includes a wide range of saris, including the Banarasi.
Despite the fact that its products are based on age-old workmanship, we consider it to be a contemporary Indian brand.
The brand's sari styling is particularly eye-catching visit the website to view unique sari-blouse colour combinations.
7. Warp 'n Weft by Sagrika Rai
This brand has been personalising bridal trunks for more than two decades, and their archive is extensive.
You can get everything from Khinkhwab to Shikargah to boota printed saris in vivid jewel tones on the brand's Instagram page if the classic Banarasi is what you're after.
Menswear and lehengas are also available.
8. Teesta by Megha
We learned about this company from influencer Ishita Sudha Yashvi's Instagram feed.
Megha is a small business owner who takes delight in it and uses it as inspiration for her minimalistic yet beautiful works.
For the discerning sari enthusiast, you'll find a variety of handloom saris here in solid colours.
of the saris are designed by Megha, and we really adore the ready-made blouses she makes. For questions about design and cost, DM her on Instagram.
9. Chakori Ethnic
A chartered accountant named Kalyani Shahi founded the label in 2017 with the intention of bringing handloom saris to a wider audience.
Her e-commerce site now sells saris made by artisans all over India, having started with a modest facility in Bihar that specialised mostly in Tussar silk.
Everything from linen to Banarsis to Kota Doria, Chikankari, Shibori Shahi, and more can be found on the Chakori Ethnic website.
Shahi styles and models the majority of the designs on the brand's Instagram account, which has helped them gain a 191K following.
10. Delhi Vintage Co.
One glance at Delhi Vintage Co.'s designs satisfies the claim made on the brand's website that it "combines the conventional with the 'not-so'".
The Delhi Vintage Co.'s exquisite weaving and sumptuous tapestry will transport you back in time, and its imagery appears to have come straight out of an art book.
Third generation founder Manish Chhabra continues the family's involvement with craftsmen and handlooms.
For trousseau shopping, go to the brand's boutique in Delhi's Dhan Mill Compound. The label is also carried by Aza and Ogaan.
11. Aura Banaras
This Banaras-based firm offers all Banarasi fabrics, such as tissue, chiffon georgette, satin silk, and katan, among others.
They are only a year and a half old, and there is a large selection to pick from.
Their price range spans the economical to the exotic.
12. Sacred Weaves
Sacred Weaves, which focuses on the history of the loom and the weaves it creates, also has a sizable collection, but it was their "Vintage Banarasi" section that drew our eye.
These saris, which have intricate, thick weaves, are relics that you pass down through the generations.
13 .Gulati Editions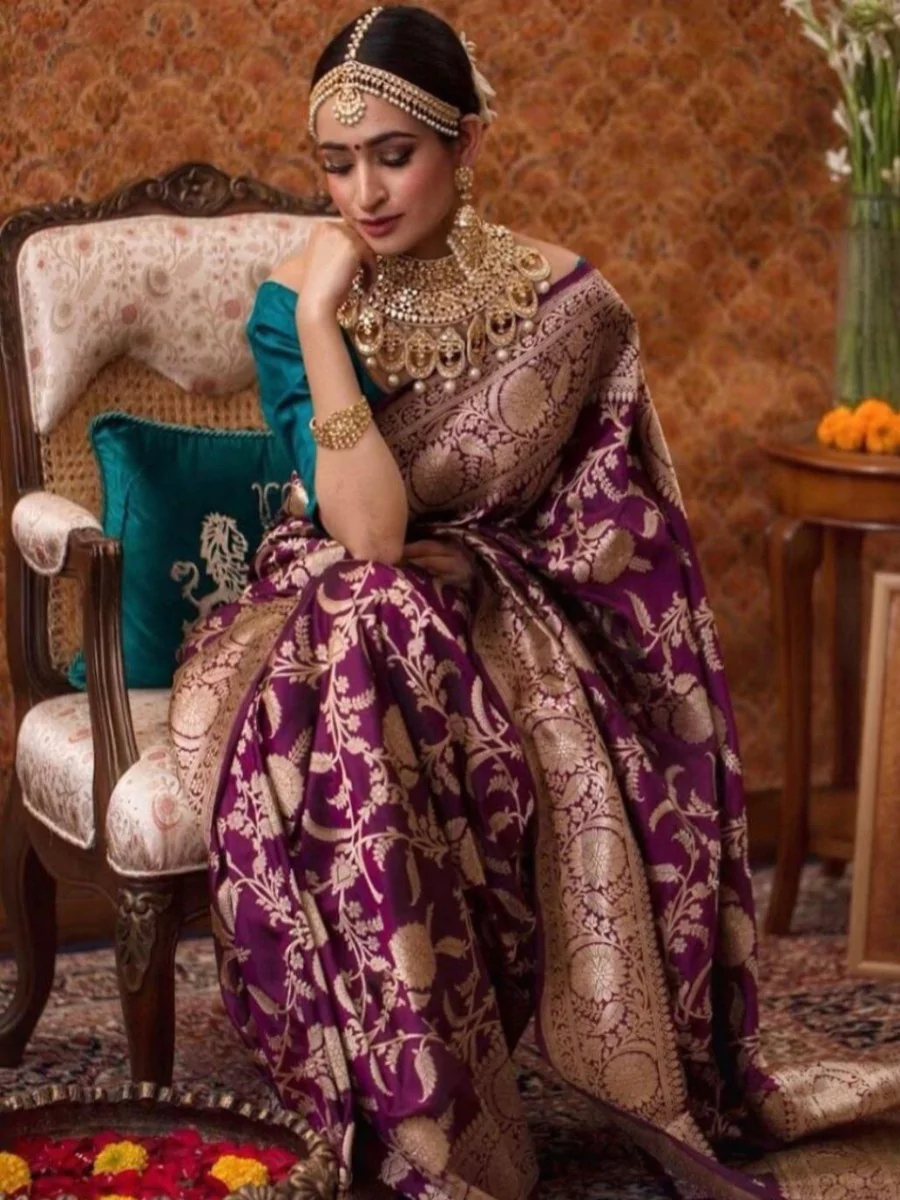 One of the most renowned sari shops in Chandigarh is Gulati Editions, however you can purchase items online by visiting their Instagram account.
Hitesh and Varnika Gulati, a father-daughter team, are in charge of this line. We heartily recommend this brand to anyone looking for a trousseau since their elaborate, rich designs are ideal.
We haven't been able to overlook their Banarasi jangla patterns in particular.
14 .Bageecha Banaras
This millennial-friendly brand lightens up the bulk of Banarasi saris with playful colour schemes, shapes, and styling suggestions.
Saris and lehengas are available, and although though the flagship store is in Shahpur Jat, Delhi, you can contact them through their Instagram account for information on the availability and costs of their items.
15 .Roliana Weaves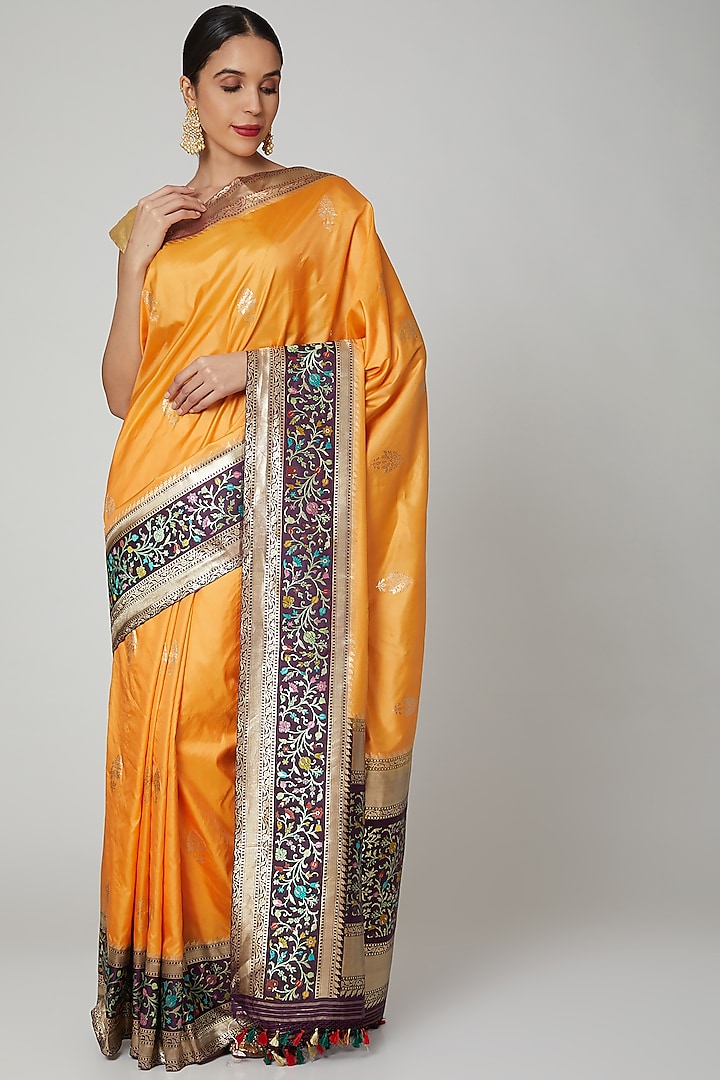 Roli and Vikash Mehra are the creators of Roliana Weaves, and they view their creations as collectibles and heirlooms.
The Roshan Lal Sarees Group, which has been around for a century, is the brand's ancestor.
This group has ties to prestigious haute couture brands like Ralph Lauren and Elie Saab.
Visit their Instagram account to see their selection of lovely weaves that are suitable for all age groups.
Related Post :