A saree is versatile clothing that looks beautiful on every woman be it tall, short, thin, or fat. Sarees are known for accentuating female body shapes beautifully.
But it is also essential to choose the right one paired with the right blouse and accessories to look the best.
One fine day I was going through magazines and blogs covering celebrities' saree looks, and I drew a conclusion about if a saree is well paired with the right print and fabric keeping the fact in mind of creating illusions. It can do wonders.
Taking inspiration from various celebrities I have decided to share tips for saree for short ladies which will make them rock their look along with the latest saree for youngsters. I will also suggest blouse designs for short ladies. 
Want to know what will flatter saree blouse designs for short girls and saree draping for short height to create an illusion of height?
What is The Best Variety of Saree for Short Height Girls?
No one can deny the fact that a saree is the most eye-catching attire in women's wardrobes. It is 6 yards in length. 
Draped around the waist snuggled with the body to create an illusion of a slim and taller effect. It also depends on the way the saree draping for short height.
Lightweight Silk Saree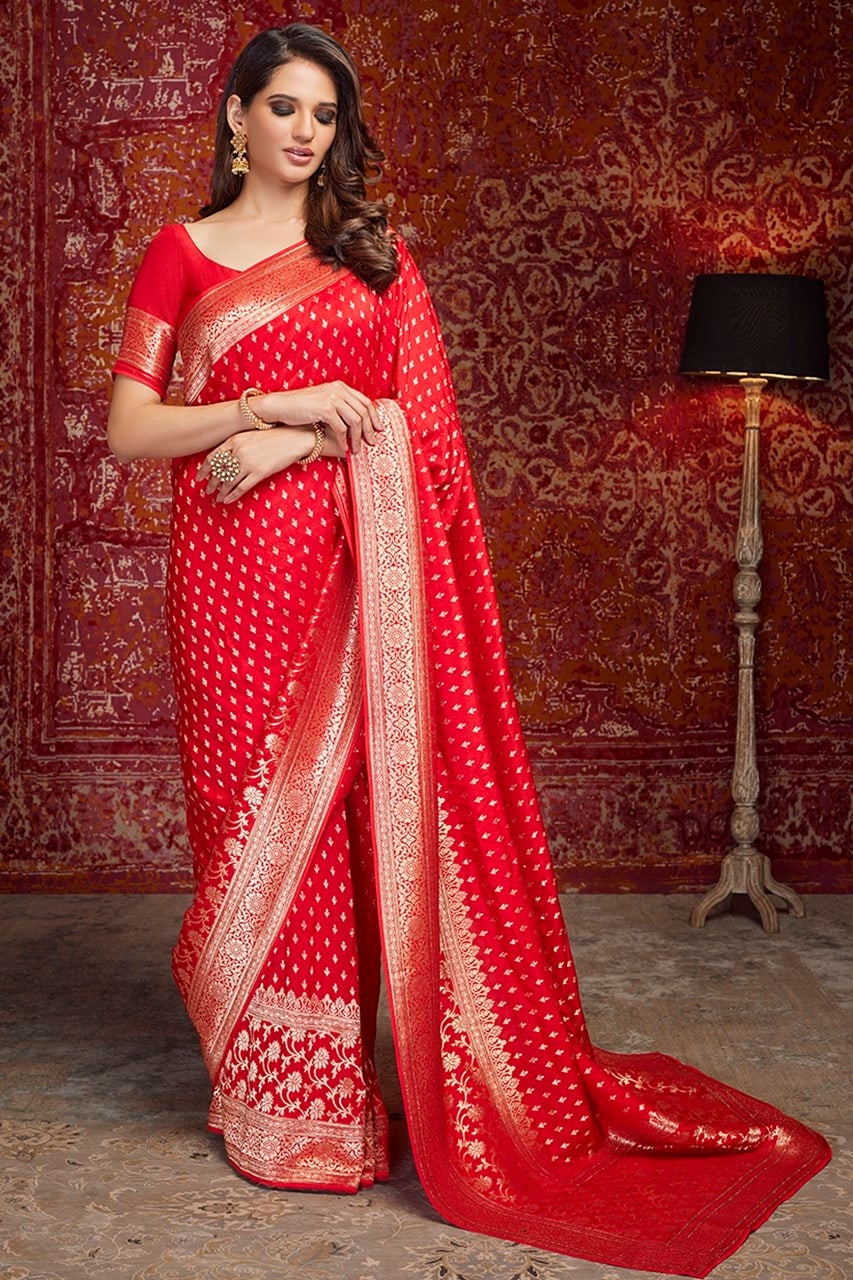 Banarsi or kanjivaram can be the most royal surat saree in your closet. A heavy-weight silk saree can give a bulky appearance so this is not the best option.
Go for a lightweight modern silk saree for that clean effect. This just stuck to your body in a way that provides a taller and slimmer look.
Chiffon Saree
The chiffon saree is lightweight so it is very easy to drape and carry. It is the best choice for short or bulky women because of its lightweight tendency it provides an illusion.
Georgette Saree
Georgette saree is one of the best saree for any body type. It is easy to drape and carry.
If a chiffon saree does not satisfy your need go with a wholesale georgette saree. This saree gives an illusion of a taller and slimmer effect to short and bulky women.
Saree with Light and Thin Borders
Heavy bordered saree draw attention towards shoulders which tend to create an illusion of short height. So women carrying heavy bordered saree do not look appealing.
Instead, go for a light and thin border to give a taller and slimmer effect.
Smaller Prints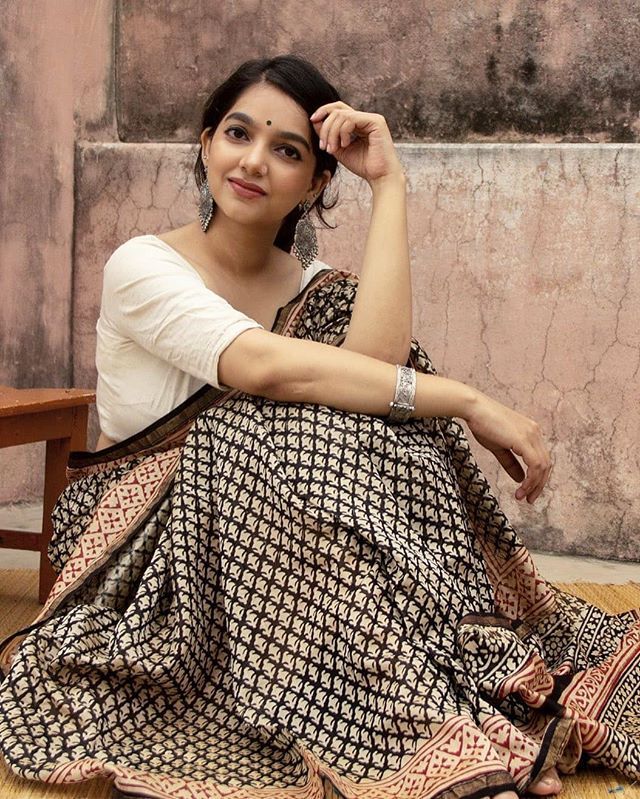 Having a large print all over the saree creates a bulky illusion that does not suit short-height women. Instead, go for small prints or no prints to create a taller and slimmer effect. 
Vertical Stripes
Vertical stripes are known for creating an illusion of height to give a taller effect. So if you are short or bulky prefer vertical stripes saree. Short saree should avoid horizontal stripes because they make you look shorter.
How Can I Look Tall in a Saree?
The draping of the saree plays an important role in the appearance of the whole look. Try to accessories in a way that gives you a tall and slimming effect. 
I have noticed that even if the saree is draped nicely but accessorizing is done incorrectly it can ruin the whole style.
Always Prefer Heels 
Even if you have good height, you still always prefer heels over short saree. You can go for stilettos, and pumps, and go for wedges if you want to be more comfortable.
Heels create an illusion of height that in turn look for a saree blouse design for short height.
Slim Fitted Petticoats
Tight fits are very popular among the latest saree for youngsters. Because it gives good shape to the body which in turn makes the drape look beautiful. It is very important to check the fitting of the petticoat.
Petticoats should be angle length and tight fit that will give an illusion of height that will help you hide a bulky appearance. If you want a slimmer look try to wear slim-fit jeans underneath. 
The Right Choice of Blouse
Always prefer vertical stripes for blouse designs. Avoid horizontal stripes blouses. Blouse designs for short ladies need to be not too tight or too loose.
Always pick v-neck, boat neck, or square neck blouse brands. Avoid wearing collared blouses.
Right Hairstyle with the Saree
Hairstyle plays an important role in saree styling. The middle partition of the hair with a bun gives the illusion of a round face to short-height ladies. Be it a sleek or messy bun gives a slimmer effect.
You can prefer a puff hairstyle or braided hair that will also give a slimmer effect.
 Statement Jewellery
Accessorising a saree acts as making your outfit noticeable in the crowd. Don't wear a statement necklace, earrings, or rings at once.
If you have short height always wear one statement piece either a necklace or earrings with a saree for short ladies.
Conclusion
Summing up the styling, short ladies prefer vertical strip prints, light borders, high heels, bun as hairstyles, and wearing a tightly fitted petticoat.
The draping should be done properly to make sure every pleat is wrinkle-free. Securing everything with safety pins.
Basically, the key to styling short-height ladies is just to create a height illusion and a slimmer effect.
Frequently Asked Questions(FAQ)
Q : What Kind of Stripes Should Short-Height Women Wear in a Saree?
Ans: Vertical Stripes.
Q: What Hairstyle Should Short-Height Women Prefer for Sarees?
Ans: Sleek or messy bun.
Q: What Kind of Petticoats Should Short-Height Women Prefer Underneath Sarees?
Ans: Tight fitted.
Q: What Kind of Saree Fabric Should Short-Height Women Wear?
Ans: Lightweight fabric like chiffon, georgette, or light silk fabric.
Q: What Are Key Tips for Accessorising Saree for Short-Height Ladies?
Ans: Either wear a statement necklace or earrings.
Related Post :