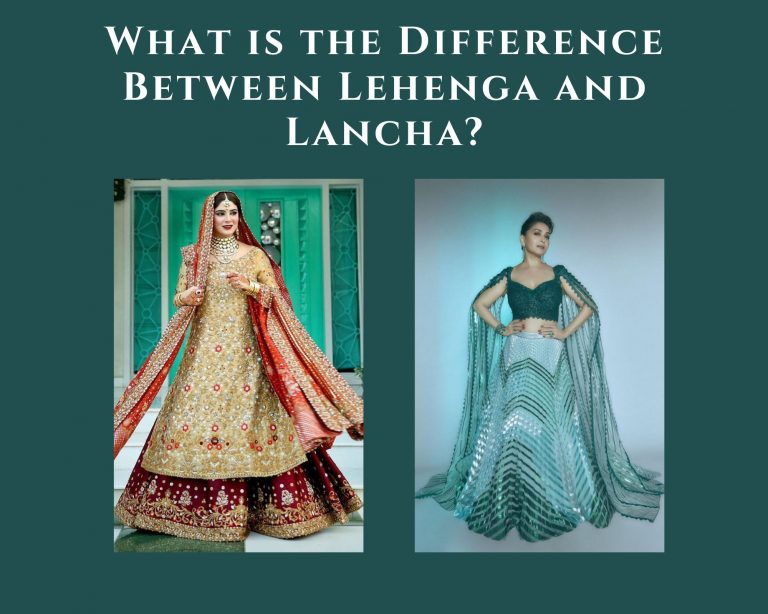 Let's face it lehengas are now the standard female attire for all festivals. Therefore, buying them is fashionable right now.
When purchasing them from any store, the terms lehenga and lancha will frequently be used.
You may be unsure of the distinction between the two terms. In the article that comes after, I'll compare the lancha and lehenga. Keep reading!
A lancha typically wears a tiny choli that resembles a crop top. Lanchas, on the other hand, wear long kurtis as blouses. The primary distinction between lehenga and lancha is this.
Lehenga: What is it?
Let me first introduce the contenders, starting with the lehenga, before we begin the comparison.
So what exactly is a lehenga?
Indian ethnic dress in three pieces is called a lehenga. It is an ankle-length skirt in India and is made of various materials.
You will receive a long skirt, a blouse or choli, and a scarf or dupatta among the three items.
All of India's states have a huge following for lehengas. They do, however, enjoy enormous popularity in Punjab.
Nowadays, many women can be seen attending various occasions while dressed in Punjabi lehengas.
Check out this article on the differences between a lehenga and a saree if you still believe they are the same.
Let's go on to lancha immediately below now that you are familiar with lehenga.
What is Lancha? 
It's time to comprehend what a Lancha clothing means. Here is a brief overview of Lacha!
What exactly do you mean by a Lancha dress, then?
A lancha resembles a lehenga a lot. It is a three-piece outfit that may be worn to many different occasions. The classic lachas are made up of a long, flared skirt, a long blouse, and a dupatta.
Despite having a similar tone to lehengas, there are a few subtle variations between the two. So let's go to our concluding comparison.
10 Distinctions Between a Lancha and a Lehenga
The newest fashion trend among Wholesale Indian women clothing is wearing lehengas and lanchas. Everyone wants to wear them, and they have taken over the fashion world.
Before purchasing any of these costumes, you should be aware of their unique differences.
Right below, I'll outline 10 key contrasts between a lehenga and a lancha. Go on reading!
There Are Structural Distinctions Between Lancha and Lehenga.
You could think a lehenga and a lancha look alike. If you look closely at the outfits, you can immediately see a number of changes between their construction.
A lehenga dress consists of a long skirt, a shirt, and a substantial dupatta, as you are already aware.
Such a costume has shorter blouses that conceal the bust while leaving the belly and back exposed.
However, cholis in lancha costumes have a different construction. These outfits frequently feature longer cholis that resemble kurtis.
The wearer's back and stomach are covered by these blouses. For better coverage, they may also extend to the thighs or calves.
Different Traditional Wearers are Present.
A lancha and a lehenga brand name have various traditional wearers in addition to structural differences.
Most women, both inside and outside of Punjab, adore wearing lehengas for various events. Sincerely, lehengas are widely accepted by all ladies, regardless of their caste or religion.
Lancha dresses, on the other hand, are extremely popular among Muslims and Punjabis. Although wearing a lancha is common during fashion shows and advertisements, few women actually wear one to their wedding.
Lehengas Are Increasingly Widely Worn.
These days, lehengas are extremely popular. Everyone, from brides to bridesmaids to guests, enjoys donning a lehenga on special occasions.
Lanchas are somewhat less well-liked than lehengas, though. Unless they want to present a unique yet traditional image, few women are seen wearing a lancha.
Lanchas are more traditional
Are you aware? Lehengas are less conventional than lanchas. Latchas are less common, but they more closely resemble ancient culture than other costumes.
Lehengas are also conventional. But when compared to lanchas, they are a modern group.
Ladies therefore choose to wear lanchas to add a traditional touch to their lehengas at any occasion.
Lehengas Are More Revealing
Lehengas, as I mentioned previously, have a tiny choli that resembles a crop top. When worn properly, these blouses show off your back, waist, and belly.
They also emphasise your contours for a more attractive appearance. Lehengas are really exposing, in fact.
A long kurti is a component of the ensemble for lanchas. Thus, it maintains complete coverage of the back, stomach, and waist.
Lehengas Are Widely Available
Lehengas are still extensively accessible in all clothing stores, regardless of size. When purchasing a lehenga, you can get them in a variety of patterns and hues at the market.
However, not all stores have lanchas readily available. They are not widely available because they are not particularly well known.
Lanchas Have Heavier Dupattas
The majority of Punjabi and Muslim brides wear lanchas as part of their traditional dress for important events like weddings.
For the ultimate appeal, these costumes have heavy, embroidered dupattas.
Lehengas come with exquisite dupattas, but they are not as substantial as those that accompany with lanchas.
Lehengas Have Better Global Influence
Everyone loves lehengas, both inside and outside of India. As it travelled to several nations, it underwent extensive adjustments and alterations and eventually became into the ideal clothing for all females over the world.
Lehengas travelled more frequently than lanchas. Therefore, they only have a small global influence.
Lanchas and Lehengas are Differently Accessorized
A bridal lehenga and a lancha must be accessorised because they are ethnic garments.
Women decorate lehengas with many jewellery styles, from traditional to contemporary. To adorn their priceless lanchas, however, they prefer traditional gold and silver jewellery.
Lanchas Are More Costly
Lehengas for brides can cost up to INR 50,000 on average. However, because of their intricate motifs and lengthy kurtis, lanchas are more expensive.
Lehengas and Lanchas' Designs
Lehengas are less elegant than lanchas. They have more complex designs than lehengas, with sequin, embroidery, and detailed details.
Lehengas are lighter than Lanchas, yet having elaborate Kaarigari. For brides, designer lehengas are more popular.
The world is ruled by lanchas and lehengas. They appear to be being worn by everyone, turning heads everywhere they go. Do you wish to continue the legacy at events? Order them right away!
Related Post :