Banarasi silk sarees are the pride of India, and they are left by each and every woman. Every lady has a special place for a Banarasi saree in their wardrobe, and when it comes to weddings, the saree is the first choice of every bride.
It not only suits the bride but is also a popular choice for the bride and groom's mother, who is always a bridesmaid.
Let's check out some of the modern yet glorious Bengali Banarasi sarees for Bengali brides.
Red Bengali Banarasi Saree
The pretty red Banarasi saree for Bengali bride is the most classic choice. Brides who like to keep it traditional and sophisticated should choose the red Banarasi saree with pretty zari borders and small motifs.
Pairing it with traditional jewellery completes the overall look. The matching Silk blouse with elbow-length sleeves makes the entire saree more fascinating.
Zardosi Banarasi Silk Saree with Designer Blouse
The heavy Zardosi work The Banarasi saree is also the prettiest pick for a Bengali bride.
When draped in Bengali style and paired with the matching designer blouse, a desi saree can give you an ultimately stunning appeal.
The intricate zardosi details give the saree the perfect traditional look to match the wedding rituals.
Pink Banarasi Saree with Silver Brocade
For the traditional Bengali bridal outfit, the pink saree embedded with silver motifs and brocade is breathtaking.
Gold jewellery paired with a saree completes the entire look well. It is a colour that every bride looks for and a design that makes her the prettiest Diva ever.
A 3/4-sleeve blouse and pretty bridal makeup increase the glow.
Sophisticated Grey Banarasi Silk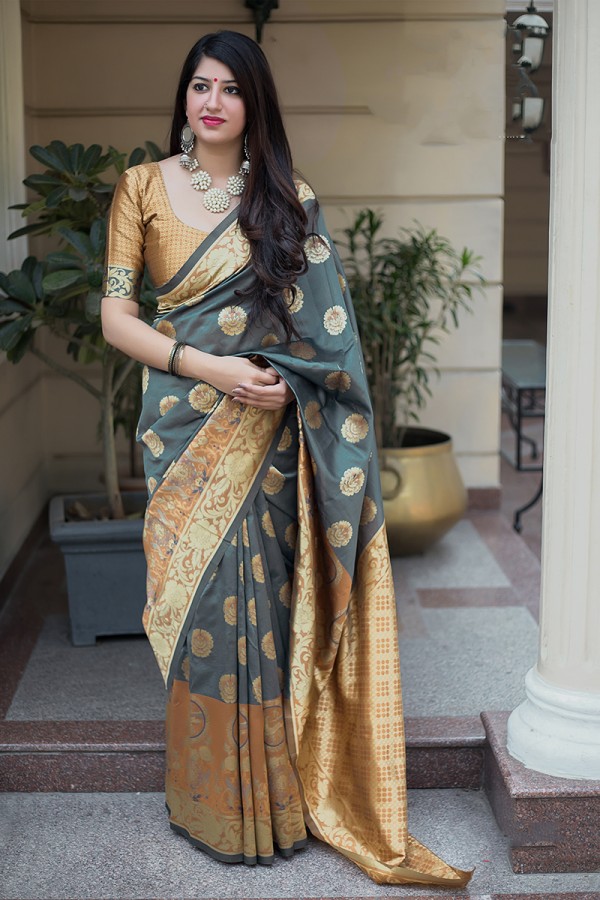 You can keep it minimal with grey at a haldi or mehndi ceremony. The buttidar Banarasi silk saree with matching borders and heavy pallu makes the bride look completely admirable.
It is one of the modern Banarasi sarees for Bengali marriage that looks perfect when paired with matching jewellery and accessories.
If you don't like dark shades or love to wear pastels, this could be your perfect colour choice. Get wholesale sarees from online stores to make your bridal shopping easy and convenient. 
Maroon Jhangla Banarasi Silk
The Jhangla variety of Banarasi silk has its own beauty and elegance. The maroon saree with a shimmer of golden zari thread gives some shine to the entire bridal look.
The main focus of a bride's outfit is her outfit, and the classic maroon colour makes it something better.
The Bengali bride in maroon got a lot more attention on her special day. Adding traditional Bengali jewellery to it multiplies the charm.
Blue Bridal Banarasi Silk Saree
Blue is also a popular colour for Bengali Bridal benarasi saree. Dark shades like navy blue and royal blue look charming when detailed with golden and silver zari threads.
Wearing this Banarasi saree to the reception ceremony will catch every eye. As it is specially made for the bride, the details and designs are enhanced in a more exclusive manner.
Orange Banarasi Silk Saree
The traditional Orange Banarasi silk saree, detailed with beautiful zozi and embroidery work, could make you the perfect Bengali bride.
The soothing colour and amazing embroidery work look perfect when draped in the Bengali style. All you need to do is add the matching jewellery to complement the look.
Red and White Banarasi Silk Saree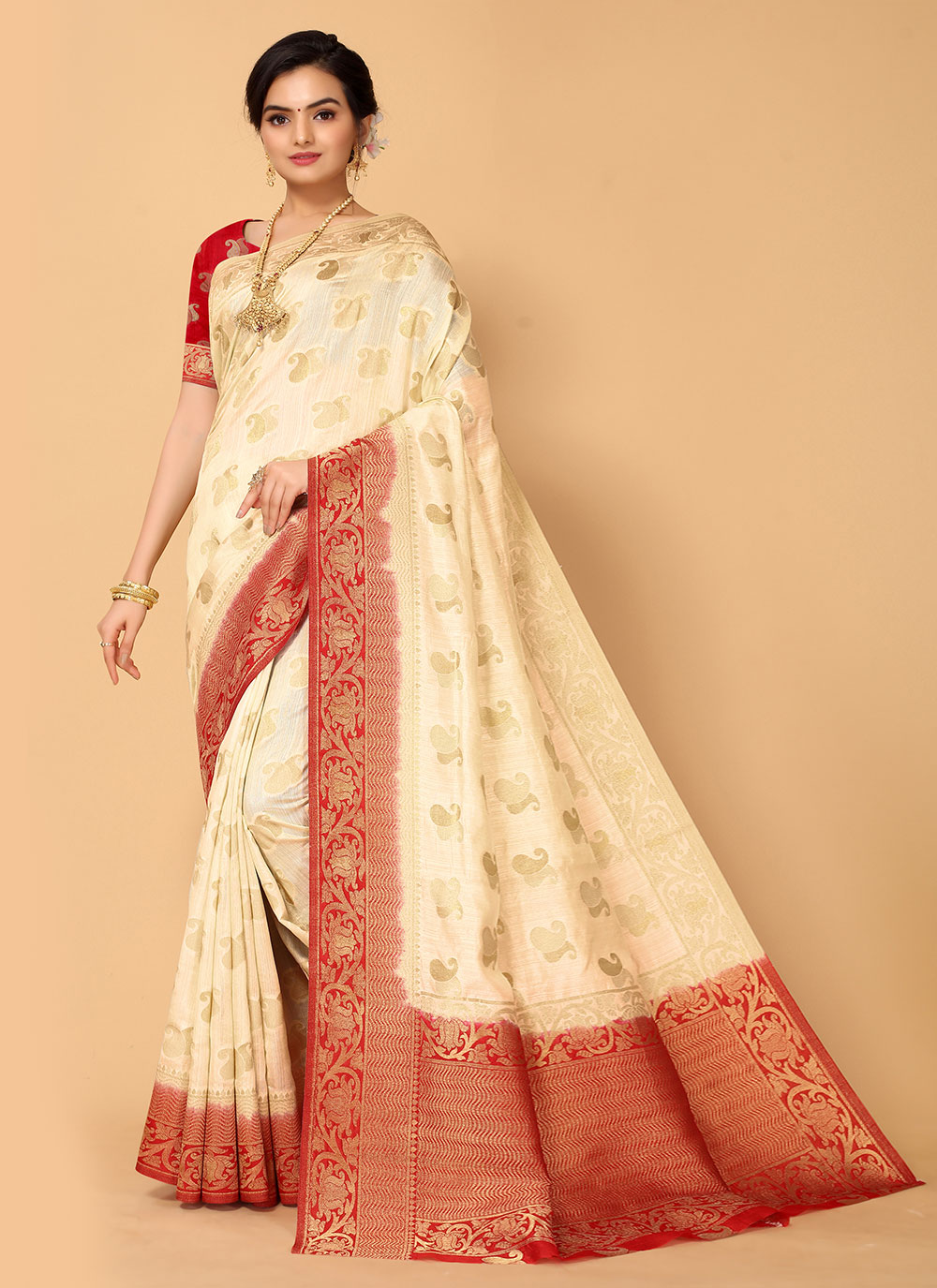 The traditional Bengali saree with a red border and white shade is none other than the best pick for a bride.
It is the perfect combination of beauty and tradition in a single outfit. The saree itself is magic, so adding minimal traditional jewellery to it will complete your bridal look in the best way. Give the best saree poses for girl while wearing this beautiful red and white banarasi saree.
Ombre Shade Banarasi Silk Saree
Has been one of the most popular styles when it comes to modernity. So the double-shaded ombre-style wedding Banarasi saree is something you would love to wear at your wedding.
Dasari details and the happy pallu of society make it even more adoring. Wearing it at the reception party will make you the centre of attention.
Maroon and Yellow Banarasi Saree
The combination of maroon and yellow is a great picture for your wedding day. The yellow pallu and matching yellow blouse paired with the saree will make you the prettiest bride ever.
Tarj fabric and beautiful meenakari work on this saree would be a perfect combination with gold jewellery. Nothing would make you look more traditional as compared to this maroon yellow saree.
Purple Banarasi Saree with Orange Blouse
The combination of purple and yellow is immensely soothing. A silky purple saree detailed with golden motors matched with an orange blouse is a deadly combination.
The small bootidar pattern on the saree would make it look really amazing. For an amazing look pair wholesale banarasi sarees with some matching jewellery and bridal makeup.
Vibrant Sky Blue Banarasi Silk Saree
Want to look like the best Bengali bride in a light shade? Then you can choose something pastel and elegant in sky blue.
It is the best one if you are fair. A vibrant sky blue modern Bengali wedding saree with delicate golden embroidery is the graceful picture for your reception look.
The unique colour will help you stand out from the crowd. completed with a golden blouse to look more perfect.
The Golden Banarasi Saree
A mesmerising golden Banarasi silk saree is the perfect choice for a bride. Whether it's the reception party or the wedding day, a golden Banarasi saree will make you look absolutely perfect.
The royal enrichment of this colour will make you look like the most alluring bride.
Complementing the saree with her red diamond jewellery will finalise your look in a perfect way.
Magenta Banarasi Saree
For a glorious appeal, the dark shade of magenta Saree will look exquisite. Perfect choice for the bride, and it looks super gorgeous when draped in the traditional Bengali style.
All you need to do is prepare the traditional golden jewellery with a saree to complete your overall appearance. The traditional Bengali makeup is also a must.
Beige Banarasi Silk Saree
Like golden beige, it is also a perfect colour for brides. The best part about wages is that they suit every skin tone.
So if you are fair or dusky, beige will look perfect on you. The silver and golden saree weave on the vegetable silk saree makes it look more astonishing.
Pairing the saree with traditional jewellery will make you the perfect Bengali bride. You can get the prettiest ones from popular sarees brand in India for your dream day. 
Red and Green Silk Saree
The Bengali report is a royal combination of elegance. This mine of beauty with intricate zardosi work makes a perfect saree for the auspicious occasion.
Dashaini fabric and traditional elegance make it a favourite of every woman. Perangit with an extremely beautiful Silk blouse will make your look even brighter.
Simple Kataan Banarasi Look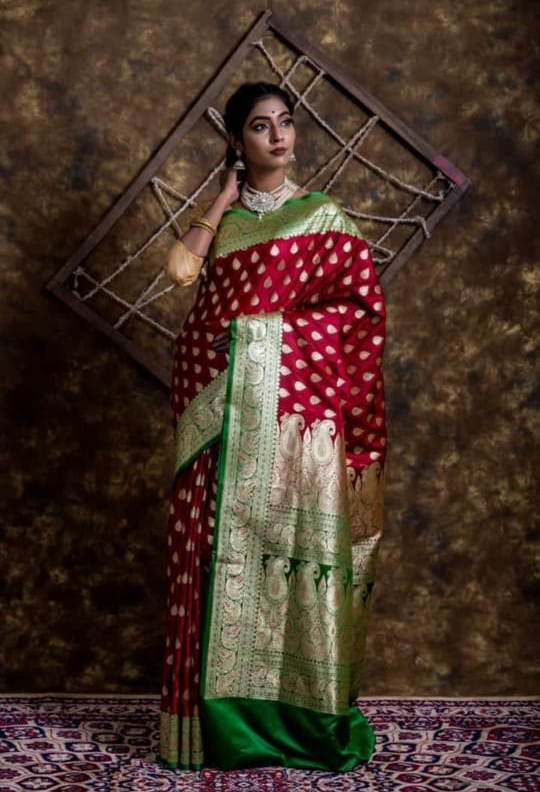 What about keeping it extremely simple and unique? You can do this by choosing the Kataan Bengali bridal Banarasi saree.
You will look like none other than an angel by wearing this saree with a pretty red blouse. Gold jewellery and simple makeup are a must to simplify your bridal look.
Bottle Green Bridal Banarasi Saree
The sheer base of a bottle-green Banarasi saree with pretty embroidery and matching blouse looks so elegant.
This Bengali saree design will make you a stunning Bengali bride. The shade of this saree will definitely make you the most gorgeous lady of the year. Golden jewellery and Bengali bridal makeup will give you a top-notch look.
Mustard Yellow Banarasi Saree
Be the Sunshine at your wedding by wearing a mustard yellow Banarasi saree. The red border and a matching Red blouse make a beautiful combination with the mustard saree.
It is the best option to wear to wedding events and looks more specified when draped in the traditional Bengali style. It will definitely add a special charm to your bridal look.
The Regal White Banarasi Saree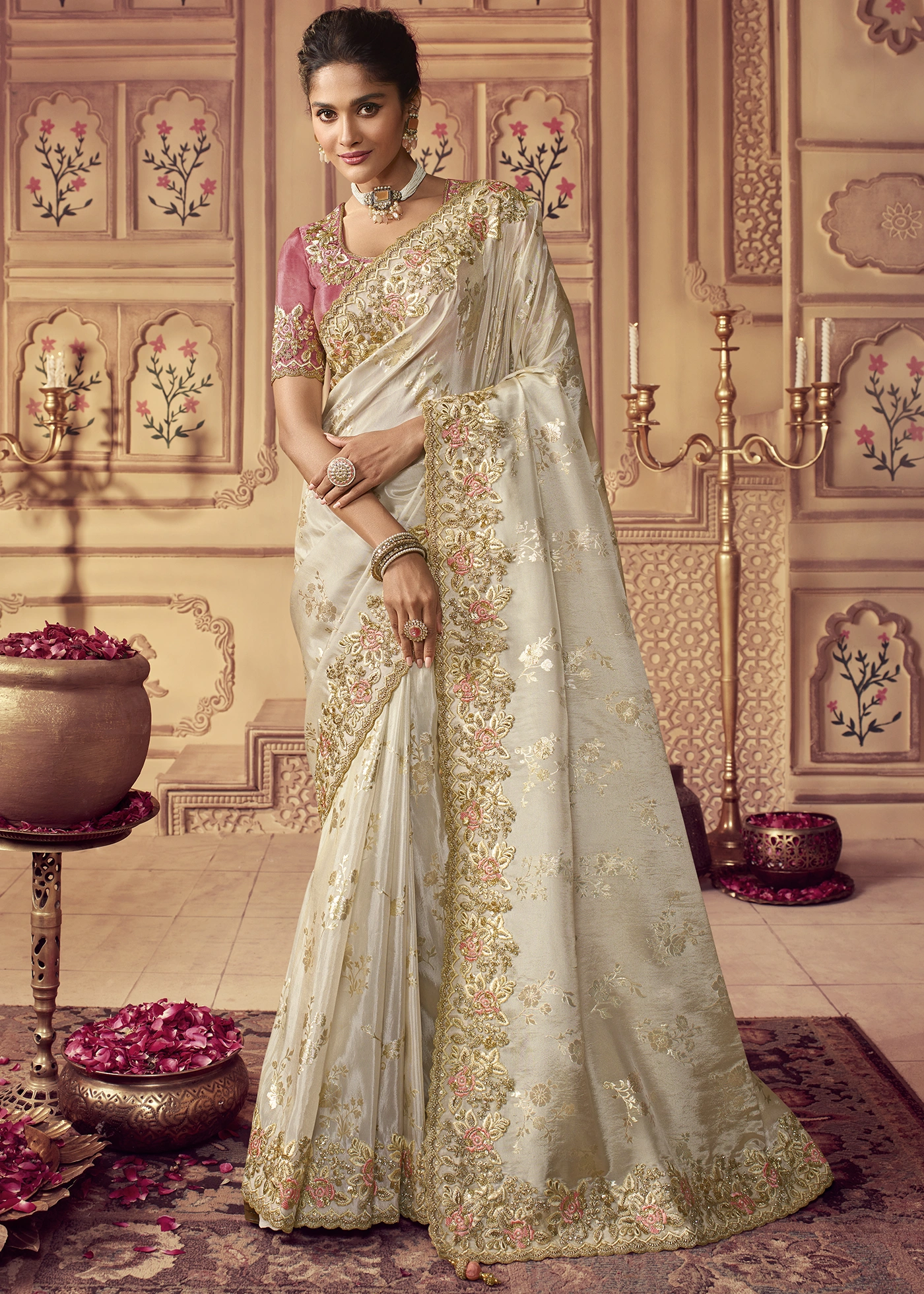 Most likely, Bengali brides love to flaunt their traditional look. If you are also one of them trying to keep it minimal and more gorgeous, a white border and a matching Red blouse will be the perfect choice.
To make that look even more perfect, go for Bengali makeup and a bun.
Brown Bengali Banarasi Saree
Brown is also one of the most complementing dark shades for brides. If you are a lover of dark shades, then a brown Banarasi silk saree will be your dream pick.
The silver brocade zari and zardozi embroidery will make the brown saree look more royal and perfect. Spread your charm by wearing it at the reception.
Bottom Line
Every Banarasi saree is different from each other due to its design and pattern. There are different types of Banarasi sarees available, with thousands of varieties in designs and patterns.
It is really a difficult choice for the bride to choose one among them, as each one is beautiful in its own way. 
So if you are also a bride thinking of picking your favourite Banarasi saree, then these are some of the latest trending options of modern banarasi saree for Bengali marriage.
Go for the one that suits your taste and complexion. And then you are done!