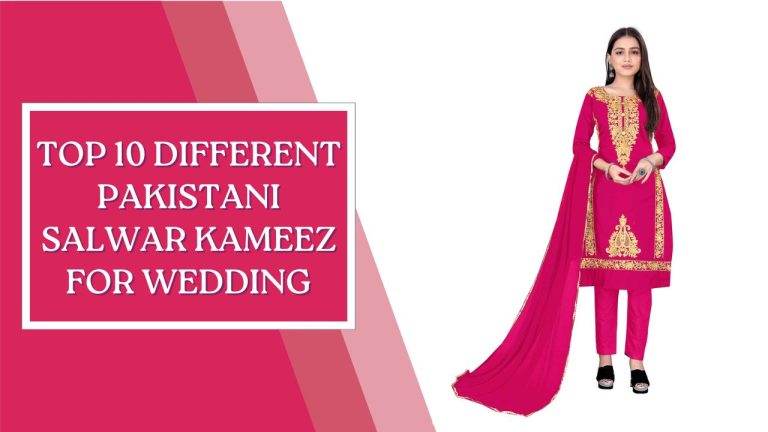 Brides nowadays cherish a unique and different look for their wedding day. The most important thing for a perfect wedding look is your wedding dress.
Pakistani salwar kameez is one of the prettiest wedding outfits, especially for Pakistani women.
The bride not only loves to wear the dress on their wedding day, but they even prefer to wear it on pre- and post-wedding functions.
Many of them like to shop wholesale pakistani salwar kameez in bulk so that they can flaunt different looks of the outfit with different patterns at every wedding function.
10 Pakistani Salwar Kameez for Weddings
Here is a list of some beautiful Pakistani salwar kameez that can be worn on different wedding functions to provide you with the perfect wedding look.
Green Pakistani Patiala Salwar Kameez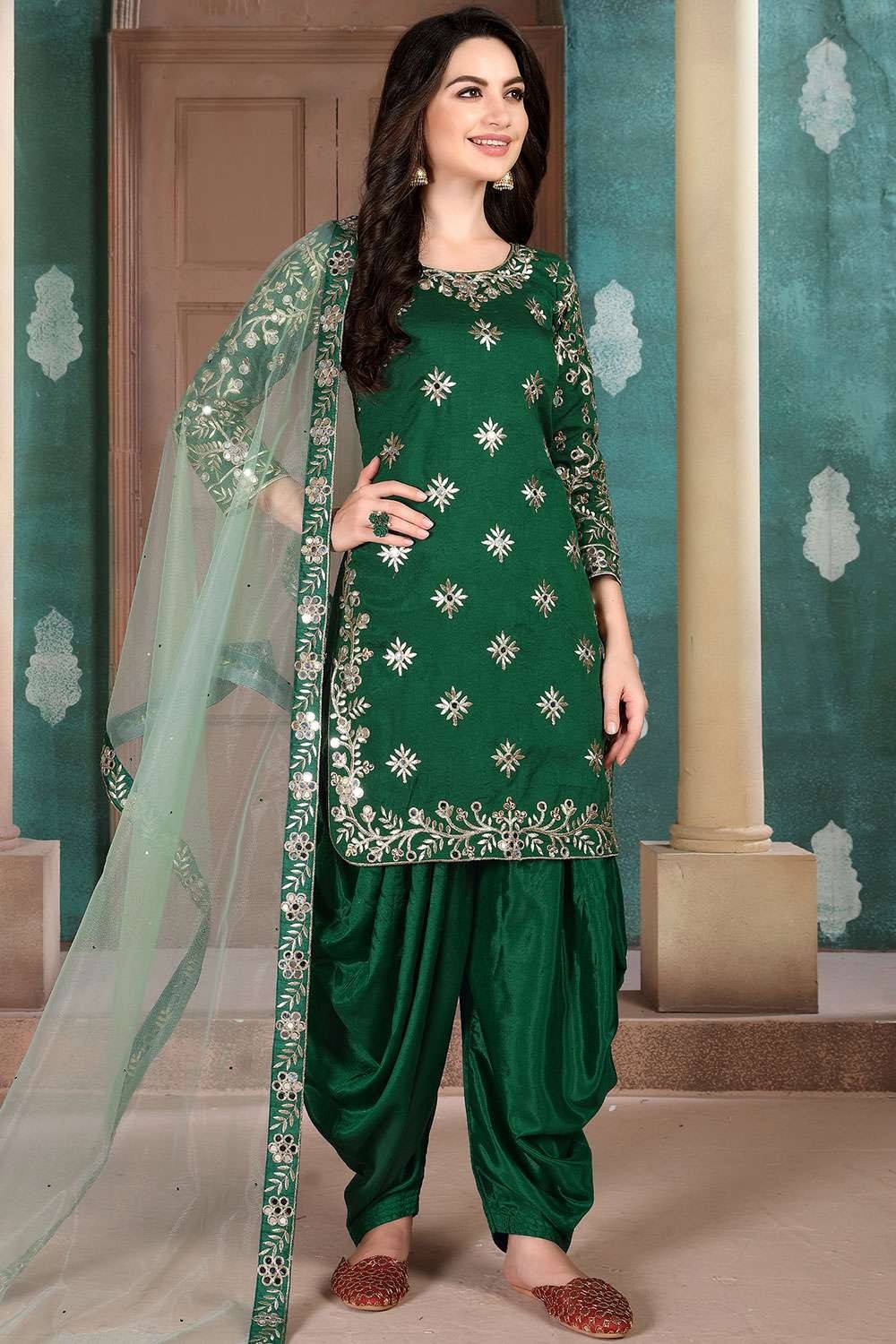 Green is considered to be one of the auspicious colours for weddings.
A beautiful Patiala-patterned green Pakistani salwar kameez detailed with golden embellishments and pretty borders will make the mehndi ceremony vibes more authentic.
This green suit with short sleeves will accompany your mehndi in the perfect way.
Orange Pakistani Anarkali Salwar Kameez
For fair brides or bridesmaids, orange is a good choice. A beautifully long and flowy anarkali in orange tone will help you shine bright in the sangeet function.
So if you are planning to wear something different and attractive on Sangeet, then this orange anarkali with a churidar salwar and matching dupatta would be your best companion.
Purple Pakistani Sharara Salwar Kameez
For those who love dark shades, purple is a great option. A beautifully flared Georgette sharara and short, full-sleeved kameez make a soothing combination.
The matching Georgette dupatta with a thin border completes the outfit well.
To finalise the wedding look, add matching jewellery and a pair of heels to your sharara. Open hair and neutral makeup will go well with the pretty outfit.
Red Palazzo Salwar Kameez
If you are not comfortable in sharara, then one of the most comfortable styles of salwar kameez is palazzo.
Being straight and loose, as well as providing easy movement, makes this pattern a perfect choice for brides.
They are best when it comes to a summer wedding. This is because they give you easy movement and keep you breezy all day long.
Red palazzo salwar kameez with thin and intrictae embroidery would make you look Diva.
Pink Pant-Style Pakistani Salwar Kameez
Like palazzo pants, salwar kameez are also highly comfortable for weddings. They are a combination of style and modernness with a comfort zone for occasions like weddings or festivals like Diwali and Eid.
A pastel pink pant-style salwar kameez with floral prints and a light-weight organza dupatta will pop up every eye on you.
Make a perfect style statement with fitted pants and knee length kameez with bell sleeves pattern for cocktail party.
Blue Gharara-Style Pakistani Salwar Kameez
If you want to keep it traditional yet classy, then choosing a gharara salwar kameez would be the best option.
Ghararas are similar to sharara, but their flare doesn't start below the knees. The pattern of gharara initially starts from the waist, and the flare gradually increases till the ankle without any stitch in between.
It looks much like a skirt but has a salwar pattern, making it more comfortable and easy to make leg movements. 
Skirt-Style Maroon Pakistani Salwar Kameez
Give a better twist to your lehenga by replacing it with a skirt-style salwar kameez.
This one is something unique and classy for those who like to wear a combination of lehenga and salwar suit.
This outfit usually has a skirt, which is paired with a short kameez and a matching dupatta, giving it a full-fledged lehenga appeal. 
The outfit not only differs from the lehenga but also gives a more stylish and modern look to the wearer.
So if you want something different for the wedding function, then you can definitely choose a Skirt-style salwar kameez.
Grey-Net Pakistani Salwar Kameez
Net is one of the most popular fabrics nowadays, and Pakistani salwar kameez made of net fabrics are the prime attraction.
A floor-length anarkali made of net fabric and studded with pearls and diamonds would give you a sophisticated look at the engagement ceremony.
Also, the colour is not too bright and matches the engagement ceremony in the right manner. Pairing chandelier earrings and neutral makeup with the net anarkali suit gives you a more ravishing appeal.
Printed Yellow Pakistani Salwar Kameez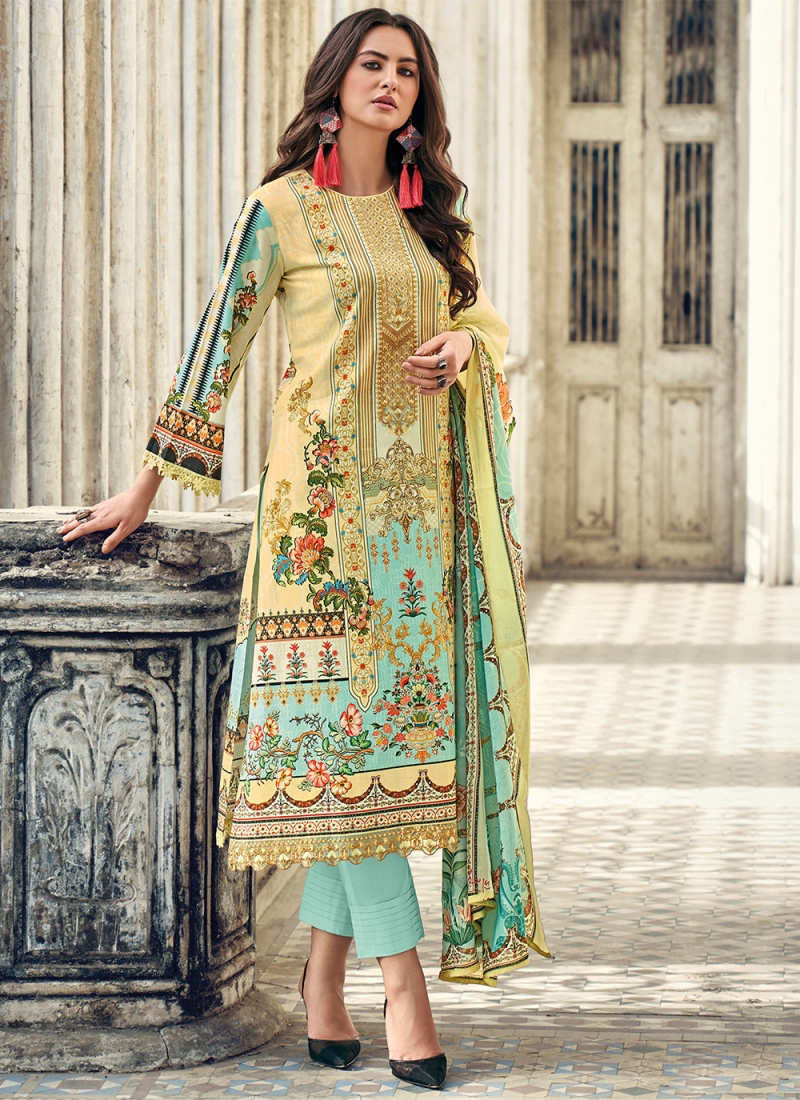 When we are talking about wedding functions, how can we forget yellow? It is one of the most appealing colour choices for both the bride and bridesmaids.
Every woman searches for yellow to wear at a haldi ceremony. Therefore, choosing a floral print chiffon fabric yellow sharara salwar suit for the haldi ceremony would be a perfect fashion statement.
All you need to do is add those trending haldi jewellery to the outfit to finalise the entire look.
You can the best suit captions for Instagram for girl in hindi while posting your pictures on social media in this dress. 
Brown Georgette Pakistani Salwar Kameez
Like red and maroon, brown is a trending colour choice for wedding functions. The lightweight brown Georgette Pakistani salwar kameez will make you shine at your sangeet ceremony.
Prints and embroidery both suit well with brown shade, so you can filter the choice depending on your desire and the brown tone will make an evening function memorable.
End Note
All of these Pakistani salwar kameez are available in the market, and you can also buy wholesale Pakistani salwar kameez online from Surat Textile.
You will get different varieties depending on the pattern and fabric, which would make you choose something better for the occasion. So don't forget to scroll through certain websites which offer you beautiful Pakistani Salwar kameez.
As you are choosing the outfit for wedding occasion, don't forget to add beautiful jewellery and other accessories to your salwar kameez.
You can go for a set of necklaces and earrings or only a pair of big earrings to make the outfit look more amazing.
Another thing is to choose the perfect hairstyle depending on your hair length. Lastly, go for footwear that perfectly matches the outfit and completes the overall look.
Frequently Asked Questions (FAQ) About Pakistani Salwar Kameez for Weddings
1. What is a Pakistani Salwar Kameez?
A Pakistani Salwar Kameez is a traditional outfit worn by men and women in Pakistan. It consists of three main components: the kameez (a long tunic), salwar (loose-fitting pants), and a dupatta (a long scarf or shawl).
2. Can I Wear a Pakistani Salwar Kameez To a Wedding?
Yes, Pakistani Salwar Kameez is a popular choice for wedding attire, especially for women. It offers comfort and elegance, making it suitable for various wedding events.
3. What Types of Pakistani Salwar Kameez are Suitable for Weddings?
For weddings, you can choose from a variety of options, including heavily embroidered or embellished Salwar Kameez sets, Anarkali suits, Lehenga-style Salwar Kameez, or designer outfits with intricate detailing.
4. What Are Some Popular Fabric Choices for Pakistani Salwar Kameez for Weddings?
Silk, chiffon, georgette, and velvet are commonly used fabrics for Pakistani Salwar Kameez worn at weddings. These fabrics offer a luxurious and elegant look.
5. How Can I Choose The Right Color for My Wedding Salwar Kameez?
The choice of color depends on your personal preference and the wedding theme. Bright and vibrant colors like red, maroon, and gold are traditional choices, but pastel shades and modern color combinations are also in fashion.
6. Do I Need To Wear Heavy Jewelry with My Pakistani Salwar Kameez for a Wedding?
While heavy jewelry can complement your outfit, the choice ultimately depends on your style and the level of formality of the wedding. You can opt for statement jewelry, such as jhumkas, bangles, and necklaces, to enhance your look.
7. Are Pakistani Salwar Kameez Outfits Customizable for Weddings?
Yes, many boutiques and designers offer customization services, allowing you to personalize your Salwar Kameez with specific embroidery, color choices, and fittings to match your wedding theme and preferences.
8. How Can I Style My Pakistani Salwar Kameez for a Wedding Look?
You can style your outfit with coordinating accessories, such as a matching clutch, elegant heels or sandals, and statement jewelry. Additionally, consider a stylish hairstyle and makeup to complete your wedding look.
9. Where Can I Purchase Pakistani Salwar Kameez for Weddings?
You can find Pakistani Salwar Kameez at local boutiques, ethnic wear stores, or online retailers that specialize in South Asian clothing. It's essential to choose a reputable source to ensure the authenticity and quality of the outfit.
10. What Should I Consider When Selecting a Wedding Pakistani Salwar Kameez for Different Seasons?
For summer weddings, choose lightweight and breathable fabrics like chiffon or georgette. In contrast, for winter weddings, opt for heavier fabrics like velvet and consider layering with a shawl or jacket.
11. How Can I Ensure The Proper Fit of My Pakistani Salwar Kameez for a Wedding?
It's crucial to get accurate measurements and alterations if necessary. Consult with a skilled tailor or use online size charts provided by the seller to ensure a comfortable and flattering fit.
Remember that Pakistani Salwar Kameez outfits are not only a stylish choice for weddings but also a reflection of rich cultural heritage, making them a versatile and meaningful option for various wedding events.