Every lady has a special place in her heart for South Indian jewellery, especially the traditional jhumkas brand.
Jhumkas are earrings with a stud and a dangling piece made of metals such as silver, gold, etc.
The jhumkas are a component of the south Indian traditional jewellery that is adored by women all over the world.
Every woman wants a traditional jhumka since they are reasonably priced and come in so many lovely styles.
Considering purchasing a traditional silver jhumka from South India online?
These online stores have beautiful jhumka patterns so check them out!
Parampariya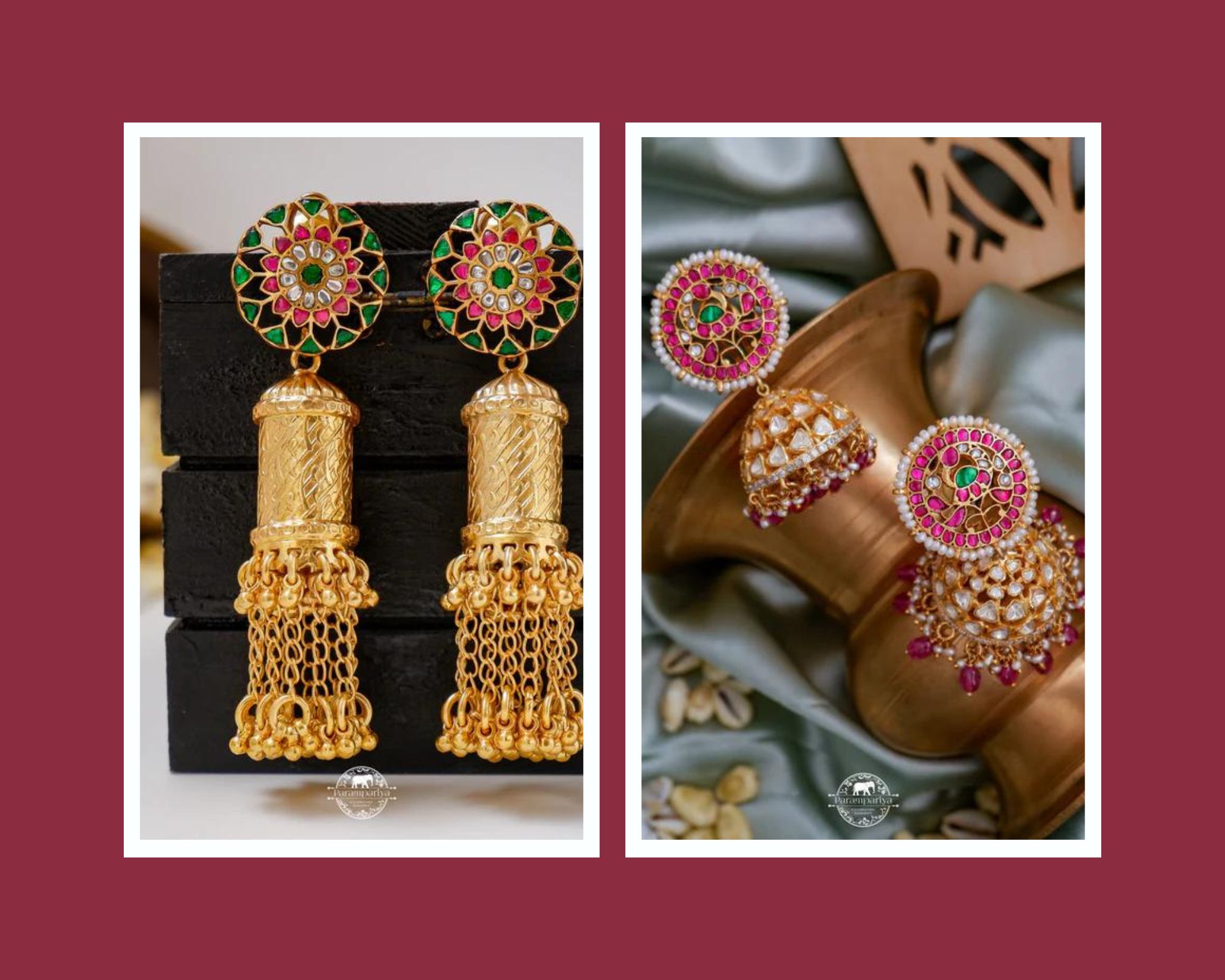 A variety of silver jewellery is available online from Parampariya, including traditional silver jhumkas, stone bangles, traditional nose pins and necklaces with ancient designs.
It's challenging to pick just one pair of silver jhumkas from this brand's extensive selection.
Sree Exotic Silver Jewellery
Sree Exotic Silver Jewelry is the place to go if you're seeking for some unique silver jewellery, such as bridal jewellery, enormous necklaces, contemporary jewellery, which combines traditional and modern styles.
Bcos its Silver
Women love to wear just one large piece of jewellery, whether it be a necklace, pair of earrings, finger rings, etc.
This is the era of statement jewellery. This brand is the best option if you're searching for striking jewellery, particularly the classic south Indian jhumka.
The range of jhumkas at Bcos its Silver is diverse with styles ranging from the traditional to the modern.
You can choose from a cute selection of jhumkas here on all the pricing ranges from polished silver to gold.
Silver Sasthu
Do you prefer to wear a different piece of jewellery for every occasion, or, in other words, do you dislike wearing the same jewellery over and over again?
If so, Silversashti is the store for you because they have a large selection of traditional, vintage jhumkas.
On this brand's Instagram page, you can find all the jaw-dropping designs, from the timeless antique jhumkas to the contemporary ruby and emerald jhumkas with kundan embellishments.
Lotus Silver jewellery
The ideal spot to go if you're looking for some distinctive and special jewellery is Lotus silver jewellery.
The online brand offers a wide selection of jewellery at reasonable prices, including south Indian traditional jhumkas brand, traditional thread necklaces and guttapusalu necklaces.
Particularly when paired with ethnic clothing, the classic silver, gold-plated silver, and silver jhumkas adorned with semi-precious stones can make you look like a princess.
Rajatamaya
Rajatamaya is a company that sells anything and everything.
To ensure that every lady may find the jewellery of her choosing, the silver jewellery is created in stunning patterns.
Any woman's heart would melt when she sees a classic silver jhumka made with different beads including corals, pearls, and other semi-precious stones.
Rajatamaya can satisfy your demand if you enjoy purchasing jhumka items with fashionable designs and patterns without sacrificing its ethnic allure.
Tarinika
Online retailer Tarinika offers a captivating selection of silver jewellery that may be worn for work, special occasions, and everyday wear.
The exquisite silver jewellery designs are equally as beautiful as the designs for gold jewellery, making them the ideal option in terms of price and artistry.
Vibha
If you have a passionate affection for temple jewellery and are looking for some classic temple jewellery such as gorgeous bangles or kadas, traditional jhumka, or necklaces with an antique finish in gold or silver tone.
One gramme gold jhumkas and gold-plated silver jhumkas filled with semi-precious stones are among the brand's exclusive collections.
Abharanam
Wedding season is almost approaching, so if you're a bride-to-be looking for unique kemp bridal jewellery, Abaharanam is the place for you.
The extensive selection of bridal jewellery, including waist belts, armlets, ear extensions, chinna, and necklaces is offered by an online retailer and is adorned with incredibly lovely kemp stones.
This jewellery collection is suitable for special occasions, Bharatanatyam performances, etc.
The Amethyst Store
If you can choose the proper attire and jewellery, looking elegant will be simple.
You may buy jewellery that makes you stand out from the crowd at the Amethyst store, which is just one stop.
The extensive selection of jewellery made with beads, semi-precious stones, etc.
offered by the brand can heighten the elegance.
These top online retailers' stunning jewellery collections are all handcrafted by skilled artisans.
The traditional silver jhumka from south India completes the ethnic outfit.
To look classy at any moment, wear these traditional south Indian traditional jhumkas brand to festivals and special occasions.
Related Post :