Jeans have been a staple wardrobe essential for over a decade now. From western Countries to India young ladies could not imagine their attire without Jeans.
Jeans come in different styles like skinny, slim fit, ripped to boot-cut. Young ladies pair it up with tops and kurtas.
They look chic and stylish. A survey has shown women wear more jeans than any other attire. So it is important to have stuff that looks cool for offices and parties.
Withh te growing age of social media photos and videos have become essential parts of our life. Professionals to ordinary people love clicking pictures and storing them as a memory.
Here in this blog, we will show you how to pose in jeans.  We will introduce you to the minute details of the picture. So without further waiting let's get started.
Confused about how to pose in jeans. Need not worry here are 9 photo poses in jeans ideas that will surely help you.
Stairs Jeans Poses
If you are looking for poses in jeans top at home your staircase is the best option to go for.
Sit in an angled position this will make your leg appear taller. You can also place your hand in a fun way to get a raw image. 
Coffee in Hand Jeans Poses
While you are having your perfect cup of coffee or an iced latte at your favorite food chain. Don't forget to get jeans photo poses. 
Hold the cup in your hand with the glasses on. These gives a classy look.
A Candid Poses in Jeans
Getting a candid picture is one of the most popular photos. You can just wear simple jeans top and pose in a fun way.
You can also use signs like victory too. You can also add a denim jacket to your photo.
While wearing a denim jacket drop one shoulder this gives a stylish photo pose.
Poses in Jeans Top with The Help of a Chair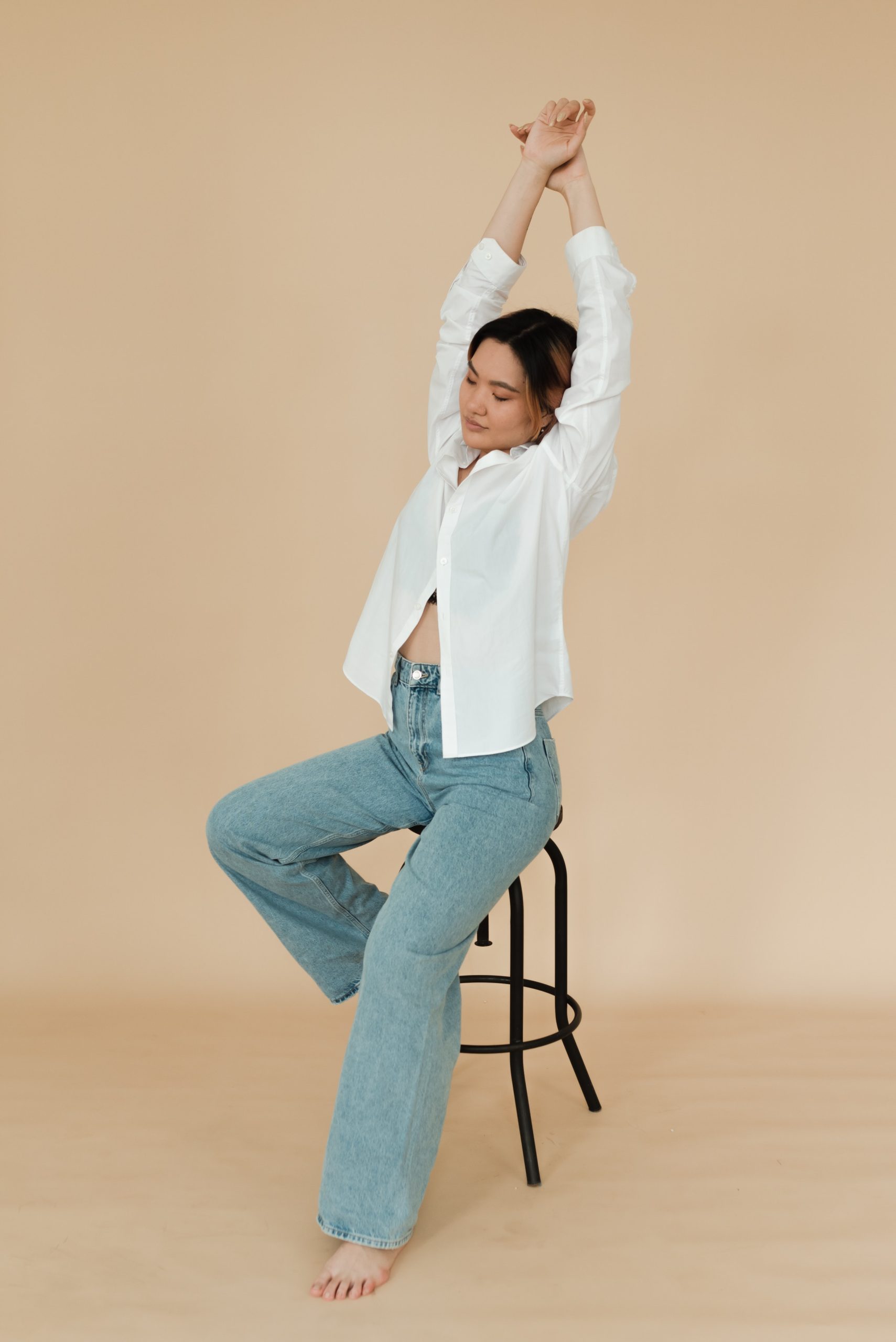 A great way to get a poses in jeans top at home is to use the chair as a prop you can sit in an elevated pose at the edge of the chair this gives an illusion of height.
If the chair has a stand, you can also place your leg on it. Don't forget to play with your hands.
Elevated Poses in Jeans
If the purpose of your jeans photo poses is to create an illusion of height this is an excellent pose for short-heightened girls.
You can place your hands on your waist and turn your face to the side. You can look at the ground this is a really classy pose.
No Face Poses in Jeans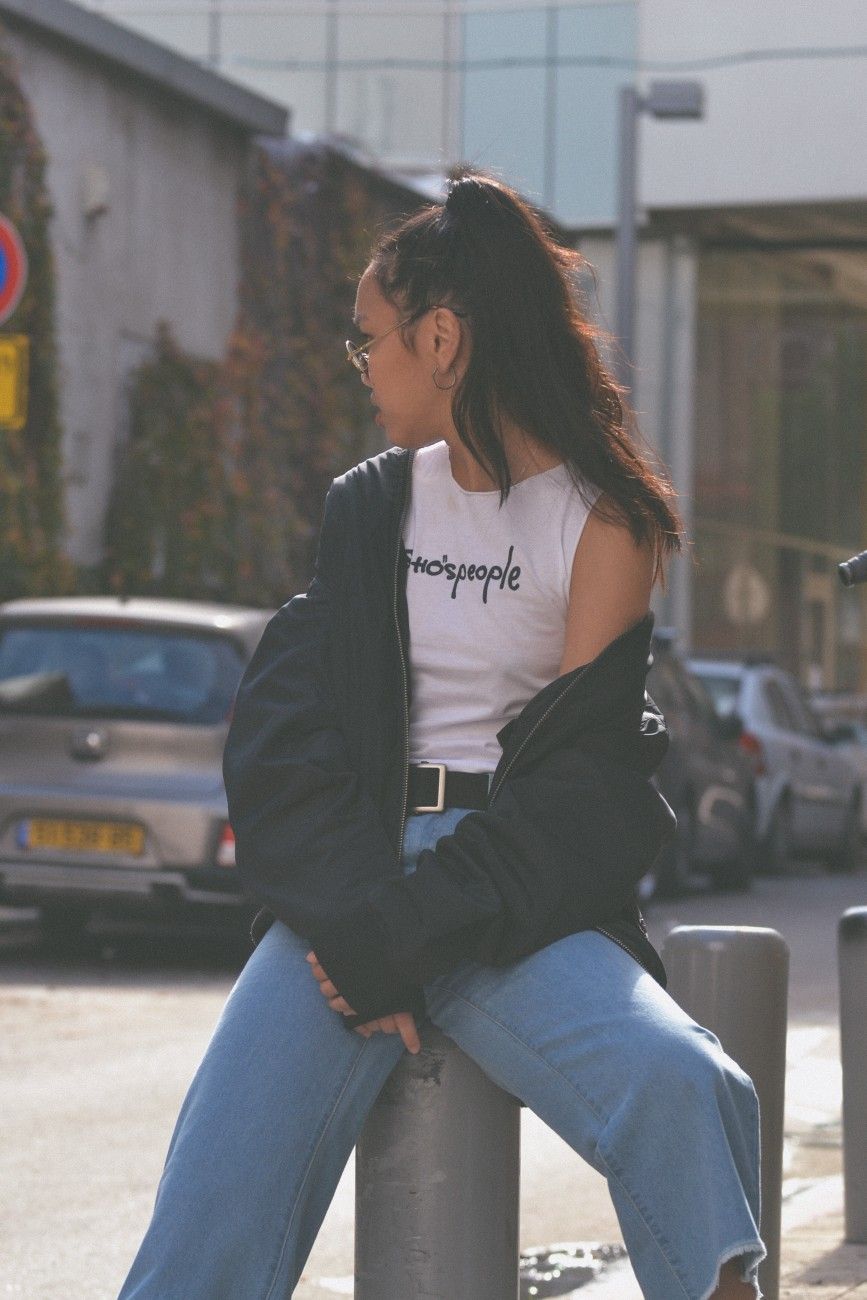 If you are a shy introvert girl but love clicking picture in jeans top poses.
Hiding your face in a stylish way with your hands or hair and posing with your body gives a great picture. You can too use the pillow to half hide your face.
Swing Your Hair in The Air
When it comes to jeans top poses at home you need to make sure everything is perfect a jeans fitting, matching top and your hair is blow dried.
These elements will help you get a nice picture. Always make sure to accessories a bit this will ensure a stylish picture. 
A pose that you can try is to let your hair fly in the air. You can pose backward with your hands-free in the air.
Mountain Jeans Top Poses
While posing in mountains make sure you are dressed in comfortable pair of jeans because you have to trek a long way.
Always wear nice trekking shoes. While posing for a photograph you can try a little walk pose that gives a different light to the picture.
A Couple Photo Poses in Jeans
If you are looking for a couple photo poses in jeans then you can first match your outfit.
This will ensure a good coordinated picture. You can prefer a location that has a lot of greenery. 
Poses like sitting together holding hands, kissing, and hugs. Poses that help creates intimacy will be a great idea.
Conclusion
In this world of Instagram posts poses in jeans top are a great idea. Always choose your jeans on basis of comfort and style.
Match it with tops and jackets for a perfect picture. Blow dry your hair this will ensure a nice picture.
I hope that this article has helped you with photo poses ideas. Thank you for reading. Please share your valuable feedback.
FAQ(Frequently Asked Questions)
Q. What is One Thing To Keep in Mind While Posing in Jeans?
Ans) To take care of the angle.
Q .While Going To The Mountains For Jeans Poses?
Ans) Wear good quality trekking shoes.
Q. What hairstyle to prefer for posing in jeans?
Ans) Have natural blow-dried hair.
Q. To Give Life To the Picture What Pose Can You Prefer?
Ans) You can go for a little walk pose.
Q. What To Do To Make Your Picture Look Stylish and Classy?
Ans) Play with your hands like placing them on your waist, and cover your face.
Q .What is the Best Time To Do a Jeans Photoshoot?
Ans) Golden hour of the day is the best time.
Related Post :